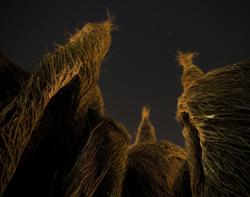 'Sticks and Click's has proven to be a model for arts and community engagement.
Sarasota, FL (PRWEB) February 26, 2013
The Sarasota Museum of Art/SMOA, a division of Ringling College of Art and Design, today announced the winners of the 'Sticks and Clicks' photography competition. Created as part of SMOA's 2013 "ARTmuse" program, 'Sticks and Clicks' challenged photographers in professional, amateur and student classifications to shoot and submit creative images of renowned sculptor Patrick Dougherty's recently completed Stickworks installation, 'Out in Front'.
'Out in Front' was built by Patrick Dougherty and scores of enthusiastic volunteers on the front lawn of historic Sarasota High School - the future home of SMOA - during the last three weeks of January 2013 and the 'Sticks and Clicks' photo competition ran from January 7 to February 13, 2013.
SMOA president Wendy G. Surkis said, "From start to finish, 'Sticks and Click's has proven to be a model for art and community engagement. Over a hundred tireless volunteers helped Patrick build 'Out in Front', there were more than 460 contest photo submissions and the images have been viewed thousands of times. The contest inspired professional to aspiring photographers to go and look at Patrick's creation – really look at it – as they composed their images. And we are very proud of the images they have captured. I thank 'Sticks and Clicks' chair Kristine Bundrant and her committee for their inspiration in creating and driving this competition and the attention the community has given us."
Competition judges were professional photographers Herb Booth and Dick Dickinson and Ringling College of Art and Design Digital Imaging instructor Anju Kulkarni. For the $1,000 grand prize winner they chose Ricky Perrone's 'Silent Village' entry from the amateur category.
Mr. Perrone said, "I'm incredibly excited to have won the SMOA Sticks and Clicks photo contest. I originally only had two semesters of photography in high school but I loved the process and the time in the dark room manipulating my images. About a year ago I returned to photography when I bought my first DSLR to take photos for my family's business, Perrone Construction."
"I knew I wanted to do a night shot of the sculptures," Perrone continued, "as they are very whimsical and I thought if I could achieve the right lighting the outcome could be very interesting. My images tend to be dark and dynamic incorporating extremely dark shadows and bright high lights. To get the lighting I wanted I had to cover the high discharge sodium lamps that were illuminating the sculpture with moving blankets because that light was far too harsh. I used a Canon 5D Mark 3 and a 17-40mm lens set to 17mm aperture of f8 for deeper depth of field and a shutter speed of 18 seconds, ISO was kept at 100. The photos were shot RAW and processed in Photoshop. The biggest challenge I had was focusing the camera, it was so dark it really came down to a little trial and error."
"The competition itself was great and I especially enjoyed seeing some of the younger kids win prizes for their photos. It feels a little surreal to have such accomplished photographers as Dick Dickinson, Herb Booth and Anju Kulkarni choose my image for the grand prize. My friends and family have always been very supportive and encouraging but to have these three judges validate my work this way feels incredible, I am so grateful for this experience," concluded Perrone.
'Sticks and Clicks' chair Kristine Bundrant was also a sponsor, in addition to Robert Antovel of Art & Frame of Sarasota, Herb Booth, Dick Dickinson and the Fine Arts Society of Sarasota, which donated the student awards. The winners were awarded their prizes in a ceremony on February 24th at the site of the sculpture. According to Kristine, "While it was wonderful to see the excitement of all the prize winners, it was the student awards that really proved the most moving. For most of the ten year olds it was the first time they had the opportunity to enter a contest, and winning an award proved to be an amazing new experience for many of them. The parents were most appreciative that SMOA opened this up so that their children could participate."
All the entries and information can be viewed at http://www.ringling.edu/sticksandclicks. The full list of 'Sticks and Click's winner's follows:
GRAND PRIZE
Grand Prize | Ricky Perrone | Silent Village (Amateur category)
PROFESSIONAL
1st Place | Kevin Moore | The Moonlit Webs We Weave
2nd Place | Matt Allison | SMOA Sticks
3rd Place | Peter Acker | Psalacantha Rising
Honorable Mention | Aleksandr Gleyzer | "Volochs" (Волохи)
AMATEUR
1st Place | Robert Koske | Untitled3
2nd Place | Nick Lennon | Sun Dipped Tips
3rd Place | Margo Cook | Eye See You
Honorable Mention | Sharon Burde | Setting Sun Day One
STUDENTS 15-18
1st Place | Sierra VanSuch | Cloudy Night
2nd Place | Julia Bellanger | Sculpture In A Frame
3rd Place | Jessie Hernandez | Black and White Twigs
Honorable Mention | Julia Bellanger | Sculpture In A Vase
STUDENTS 11-14
1st Place | Connor McLeod | The Star of Art
2nd Place | Libby Grimond | Clouds
3rd Place| Kaitlyn Siegel | Reflecting
Honorable Mention | Myra Singh | Up into the Sky
STUDENTS 10 and Under
1st Place | Summer Grady | Three Little Pigs
2nd Place | Summer Grady | Spiral Sunshine
3rd Place | Valerie Van Cleave | Circus of Sticks
Honorable Mention | Valeria Boxley | Twig Giant
SMOA's ARTmuse program brings renowned artists and museum professionals to our region.
For more information about Sarasota Museum of Art/SMOA, visit http://www.sarasotamuseumofart.org, or call Wendy G. Surkis at 941-309-7662.
About Sarasota Museum of Art
Sarasota's first museum of modern and contemporary art will be a dynamic destination for exhibiting innovative and compelling visual art of the 20th and 21st centuries. A vital part of Sarasota's rich cultural legacy, the museum will interweave exhibitions, educational programs and community outreach initiatives to engage a diverse audience and serve as a stimulating hub for creative discovery and discourse. For more information, visit http://www.sarasotamuseumofart.org.
About Ringling College
Ringling College of Art and Design is a private, not-for-profit, fully accredited college offering the Bachelors of Fine Arts degree in 13 disciplines: Advertising Design, Computer Animation, Digital Filmmaking, Fine Arts, Game Art & Design, Graphic Design, Illustration, Interior Design, Motion Design, Painting, Photography & Digital Imaging, Printmaking, and Sculpture, and a Bachelor of Arts degree in the Business of Art & Design. Located in Sarasota on Florida's Gulf Coast, the picturesque 48-acre campus now includes more than 110 buildings, and enrolls nearly 1,400 students from 42 states and 53 countries. It is recognized as being among the best and most innovative visual arts colleges in the United States as well as a leader in the use of technology in the arts.
Photo caption: More high-res images available upon request.
*Grand Prize photo by Ricky Perrone 'Silent Village' (Amateur category)