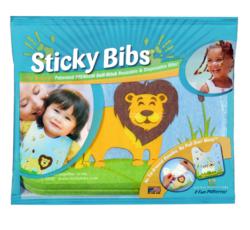 Finally, there's a bib that stays just where you put it!
Columbus, Ohio (PRWEB) December 14, 2011
Sticky Bibs, Ltd., manufacturer of Premium Self Stick baby and adult bibs, has announced it's new connection to the Social Media Networks on both Facebook and Twitter. A USA Manufacturer of Child and Adult Self Stick Bibs is reaching out to shoppers throughout the USA. "There's a new and better way of using bibs and we're delighted to bring the public up to date with our new self stick adhesive Sticky Bibs," says Gary Hoerner, managing partner of Sticky Bibs, Ltd.
"With more parents preferring to buy USA made products, we're finding that more parents are choosing Sticky Bibs -- and we're excited. Joining with the followers of Facebook and Twitter will make it easier to interact with our current customers, and -- it's also a great way to support everyone with information on an array of subjects".
Many tips shared on their Facebook and Twitter pages even help educate about the dangers of lead in products from toys to drinking water. "We want to help make consumers aware of the safety concerns that others have left out".
Sticky Bibs, Ltd., makes all of their products here in the USA. Most recently, the company announced their new product launch to online shoppers. Hoerner indicates he is super excited with the results from sales at Amazon's web site. Sticky Bibs can be purchased at Amazon directly through http://www.stickybibs.com order page.
And by visiting stickybibs.com
About Sticky Bibs
Sticky Bibs, Ltd., is an industry developer and provider of professionally designed and unique products. With offices in Ohio, Colorado and Arkansas, the company's goal is to maintain its leadership position in providing sophisticated, innovative, and the premium high end products. Learn more at stickybibs.com.
For more information or media inquiries, contact (West Coast) Gary Hoerner at 303.814.8300 or (East Coast) Stan Hibler at 614.284.4129.
###