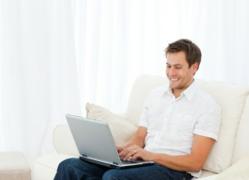 Consumers want easy and fast online transactions but they also need to be safe. Sticky Password is thrilled to be able to protect consumers as they surf and shop on the Internet.
(PRWEB) December 17, 2011
Sticky Password, a provider of password manager solutions that protect against online identity theft, would like to wish all consumers and businesses a happy holiday season by safeguarding their accounts against online threats.
Sticky Password's technology is now being used on more than 800,000 computers, and the number is growing as awareness of online threats continues to spread. Led by seasonal online deals and concern for their own online security, consumers are increasingly turning to Sticky Password. In the wake of the busiest Cyber Monday shopping day in history, Sticky Password is reiterating the importance of safe password behavior as more shoppers turn to the Internet to purchase gifts for their families and friends this holiday.
Attracted by convenience and the promise of better deals, many have turned to the Internet for their holiday shopping needs. Statistics from market research firm comScore show that online spending on Cyber Monday increased 22 percent in 2011, reaching $1.2 billion on November 28 alone.
However, the increase in online activity has been recognized by cybercriminals looking to exploit online shoppers with phishing, malware and other scams that can facilitate identity theft. In 2010, the Internet Crime Complaint Center saw the second-most complaints since its inception. Not surprisingly, one of the most common among these complaints was identity theft.
"During the Holiday season, there is always an enormous increase in online shopping activity and the "bad guys" know it. With everyone trying to get a great deal online, there is an increased need for secure shopping. Consumers want easy and fast online transactions but they also need to be safe. Sticky Password is thrilled to be able to protect consumers as they surf and shop on the Internet," said CEO, Petr Bilek.
When shopping for gifts for the holiday season, consumers do not need to navigate the potentially dangerous online waters alone. That's where Sticky Password helps its customers - by giving them the safest password management tools available so they can shop without worrying.
Sticky Password automatically generates unique, unpredictable passwords to prevent cybercriminals from guessing a password and using it to access a consumer's or business' other accounts.
By storing these passwords in encrypted databases on the user's own computer, Sticky Password ensures that only authorized users can gain access to their accounts.
Sticky Password provides maximum protection and is available in both free and trial versions. In addition, Sticky Password technology is used through several third-party vendors that have recognized the benefits of strengthening password management on their products.
About Sticky Password
Sticky Password has been storing passwords and making people more productive since 2001. In addition to managing and encrypting your passwords and personal data, Sticky Password provides exceptional one-click online form filling. The small installation package incorporates the industry's most powerful encryption algorithms and provides effective protection against phishing schemes, concealed key-loggers and identity theft. Each license also includes the Sticky Password portable version for use on a memory device like a USB flash memory stick. At home and on the road, your passwords and other sensitive personal data are secure and accessible only by you.
Sticky Password is created by Lamantine Software. Combining both security and convenience, Sticky Password is the right solution for even the most demanding customers. Sticky Password is available in several languages and is quickly becoming an integral part of the web experience around the world. Visit http://www.stickypassword.com for the latest announcements and information about Sticky Password.
###