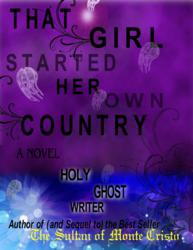 Anonymously leaked to journalists, with the note, 'This is NOT a sequel to the Millennium-Triology' raises speculation
STOCKHOLM, Sweden (PRWEB) September 01, 2012
Journalists were bewildered when they received, a then, unpublished manuscript of the Holy Ghost Writer's novel, That Girl Started Her Own Country, with a note of "this is NOT a sequel to the Millennium-Trilogy." Today, the book is released and those few journalists who were privy to the manuscript are perplexed as to why it was leaked prior to its release and why it made reference to Stieg Larsson.
Karl Stig-Erland Larsson, best known as Stieg Larsson, was a Swedish journalist turned author, best known for his uncanny realistic crime novels that were published posthumously. An independent researcher of right-wing extremism, Larsson received countless death threats before he died suddenly of a heart-attack at age 50. Much like Larsson, The Holy Ghost Writer (The HGW) has been receiving threats, or strong criticism in the Middle East from extremists for his first in the series, The Sultan of Monte Cristo. Now, the advent of That Girl Started Her Own Country, has critics wondering why it was so important to skip from the first to the sixth in the series and the shocking similarity of the book's main character Zaydee to Larsson's Lisbeth Salander. Could she be one in the same?
While The HGW's, That Girl Started Her Own Country, introduction states it is "a work of fiction and the names, characters, places, and incidents are either the product of the author's imagination or are used fictitiously and that any resemblance to actual persons, living or deceased, entities, things, events, or locales are entirely coincidental", it also says, "That Girl Started Her Own Country has been partly inspired by the death of a Swedish investigative author and the inequity of Swedish law that prohibited the Swedish author's common-law wife of 30 years from inheriting any portion of his estate. The author, of this book, has authorized the publisher, Illuminated Publications Limited to donate 1% of the proceeds to the Swedish author's common-law wife and an additional 1% to charities that protect battered women and their children."
The author, whom no one knows the real identity of, writes under the pen name, The HGW. According to the book, the pseudonymous precaution is partly a way of protecting other sources of inspiration, and subtly states, "lest powerfully, non-fictitious toes are inadvertently stepped on find this work threatening; and to avoid his own early demise..." While none of the characters has the names of any of those in the Millennium-Triology by Steig Larsson, the story's central male character is named Steven F. Larson. Coincidence or intentional, as that leaves one to wonder.
According to Larsson's life companion, or common law wife, Eva Gabrielsson, Larsson wrote her a letter after they first met, preparing her for his death.
Was it 30 years ago that he first came up with the idea of faking that death, or merely a coincidence? Was his death part of a plan to surround mystery around his pending novels, or was it faked out of a real fear from death threats? The first 3 books of the Millennium-Trilogy were to be followed by 7 more books, so is it merely a coincidence that, That Girl Started Her Own Country is also part of a 10 part series? Was The HGW's sixth in the series, That Girl Started Her Own Country, the unfinished manuscript left on Larsson's computer? Is the Holy Ghost Writer Stieg Larsson, or someone his common law wife hired to complete the work? These questions have been raised by fans of both series.
According to researcher and avid reader, Mark S., "You get the feeling you are reading a Steig Larsson book when reading That Girl Started Her Own County and the clever way this sequel ties into the Count of Monte Cristo and follows the Sultan of Monte Cristo, brings up the final question: Is the Holy Ghost Writer a medium that brought back to life, in a séance, Alexandre Dumas and Steig Larsson to collaborate in writing these sequels?"
A synopsis, of That Girl Started Her Own Country, can be found on its website. The released ebook (soon to be in hardback and softback), has been made conspicuously available free from Saturday, September 1 through Monday, September 3, at midnight, exclusively on Amazon.com.