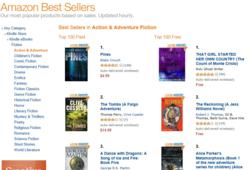 The HGW's novel, That Girl Started Her Own Country, is officially a Best-Seller according to Amazon.
Los Angeles, CA (PRWEB) September 29, 2012
The Holy Ghost Writer's novel, That Girl Started Her Own Country, the book thousands of Stieg Larsson's fans seem to be talking about, reached the top spot on Amazon's Kindle Best-Selling Books list. The book is also available in paperback as well as e-books and is sixth in a series. According to its publisher, Illuminated Publications Limited, the book has had over 5,000 downloads in just a short period of time. Meanwhile, the mysterious author, Holy Ghost Writer (the HGW) seems to be gaining media attention due to his anonymity.
Fans suspect film rights are on the horizon. Based on the 80+ Amazon reviews below, a motion picture may not be too far out of range.
Some of the Amazon Reviews are below:
5.0 out of 5 stars Worth Every Penny? Yes!, September 26, 2012
By Karen O'Sullivan
This review is from: THAT GIRL STARTED HER OWN COUNTRY (The Count of Monte Cristo) (Kindle Edition)
When I started reading this book, I thought to myself, 'I feel as though I was watching a movie'. The story intricately captured my imagination with a good descriptive story-line and my imagination was immediately transported to each scene. I am happy I wasn't disappointed since I really ended up reading this book after being gripped by the first book by the author, The Sultan of Monte Cristo: First Sequel to the Count of Monte Cristo.
The thrilling story-line brings gripping suspense, adventure and still gives an entertaining and almost realistic experience.
Interestingly, the main character Zaydee appears to me like a female action heroine. She never ceases to keep me thinking about what she will do next with her beguiling use of gadgets and seductively clever nature. The other interesting character Larson, separated from her by unintended circumstances inevitably discovered something revealing in the last chapter. In the mix of all this, there was an intriguing revelation.
I must admit, before I bought this book I wondered if it was really worth the 5.0 star reviews I saw or was it just pumped. By buying it, I can say it's worth the read and since there are no 4.5 stars, it's definitely a 5.0 star for me.
I have no regrets. Great read!
5.0 out of 5 stars An engaging book of suspense and intrigue, September 26, 2012
By The discriminating reviewer
This review is from: THAT GIRL STARTED HER OWN COUNTRY (The Count of Monte Cristo) (Kindle Edition)
Holy Ghost Writer pulls out all of his stops in putting together a web of high stakes, intrigue, and mystery. Woven through an up-to-date, high-tech world where players deal in millions of dollars, the author's plot develops in ways the reader will not expect. The reader does have to pay close attention and keep up, but this is not a drawback. The plot development leads the reader along willingly so that paying close attention is a pleasure. I don't want to give out any details of the story here because the reader deserves to discover every tantalizing nuance on a path of discovery; spoilers would be unfair. Offering surprises around every corner, this story does not reveal all its mysteries until the very end. - That Girl Started Her Own Country
5.0 out of 5 stars Can't Wait for Part VII, September 23, 2012
By Dennis Waller
This review is from: THAT GIRL STARTED HER OWN COUNTRY (The Count of Monte Cristo) (Kindle Edition)
I was drawn into the book immediately at the prologue with Zaydee's view of Alex Jones, I must agree with her point of view. I could see her facial expressions while listening to Alex on the radio while in the middle of one of rants.
I am very impressed with the way the author has woven so many different aspects together like The Bilderbergs, Skull and Bones, Wall Street, Don Juan, The Media, Nancy Grace, and Genomics into an intriguing story that is reminisce of the works of Dan Brown. The depth of knowledge is evident throughout the entire book. Someone has done some heavy duty research in writing this book. This is a book that is cerebral enough to entertain a Dennis Miller yet written to where even a novice to worldly knowledge will still enjoy. If you are a fan of Dan Brown, you're sure to enjoy reading this book, there is something in it for everyone. From the inner workings of the FBI to science to finance not to mention a love story underneath the story line.
I really did enjoy the way Nancy Grace was portrayed in the book and feel that the author nailed her to a T. And of course, the underhanded baboonery of the FBI agents doesn't go un-noticed. And where did the author learn about the "two Sony walkman's?" Hmm?
The pace of the book could be compared to one of Daniel Craig's 007 movies. The strong definition of the characters within the plot along with the ability to show their character flaws adds to the realism. Under the facade of an unshakable strength lays a vulnerable weakness that makes Zaydee loveable. This makes Zaydee very human, that under that toughness is a compassionate person with deep seeded values that are masked, somewhat like our Craig's Bond in Quantum of Solace.
I recommend this book as it deserves to be respected on several levels, A "5 Star" book that will leave you wanting more. And that my friend is the sign of a great book, wanting more, Thank You Mr. HGW - That Girl Started Her Own Country