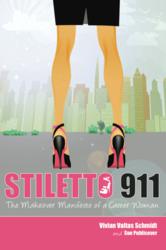 I promised myself I would earn the life I wanted. Success is the best revenge – later in life I understood that my revenge was never against others but against my own self-doubts and insecurities.
Chicago, IL (PRWEB) December 01, 2011
What's a self-absorbed diva to do when life's comforts are suddenly yanked out from under her? In the case of Morgan Demarest, she whined (and wined!) a little, pulled up her big girl panties, strapped on a pair of stilettos and rebuilt her life — with a little help from a 21st century Fairy Godmother. This is the premise of "Stiletto 911: The Makeover Manifesto", a new self-help fable from two women who know what it's like to spring back. Authors Vivian Valtas Schmidt and Sue Publicover teamed up to combine their love of stilettos with their passion for helping others find the best in themselves.
As the daughter of a Greek immigrant, Valtas Schmidt started helping her family provide even the simplest of things at a young age. As an adult, she overcame an abusive relationship that fueled her drive to make it on her own. Publicover, a single mother, pushed through her own personal hardships to arrive at the dream life she always wanted.
Valtas Schmidt and Publicover turned life's challenges into humor. They paired up to provide other women with a lively, entertaining book that features life lessons within a fictional tale. The main character, Morgan Demarest, is a woman of entitlement who suddenly loses all of her safety nets at once. She then discovers she isn't equipped to make essential life decisions. Morgan must untangle her life's mess and realign her priorities—no easy task with a fiery ex-lover, a no-nonsense fairy godmother with her own diva-tude, and a new friendship that becomes more than she bargained for.
"I always knew I wanted more in life – more wisdom, knowledge and understanding of the world – but I had no roadmap to get there. This book represents my attempt at that journey," explains Valtas Schmidt. "I promised myself I would earn the life I wanted. Success is the best revenge – later in life I understood that my revenge was never against others but against my own self-doubts and insecurities."
She partnered with Sue Publicover in 2010 and the two crafted the story and the lessons, with the heartfelt desire that other women could learn from their experiences.
Valtas Schmidt is a diminutive powerhouse who rises up in her stilettos. She compares life to those heels. "Sure, it's okay to wear flats. They're practical. But walking around in a pair of stilettos gives you that feeling of confidence and sexiness. You might wobble along at first, but once you master this challenge, you can strut your stuff!"
As an acknowledgement to their continued passion for helping others, Valtas Schmidt intends to donate fifty percent of the proceeds to two charities: The Boys and Girls Club and Imerman Angels, a one-on-one cancer support group.
"Stiletto 911: The Makeover Manifesto" is available for sale online at Amazon.com and other channels.
About the Authors:
Vivian Valtas Schmidt is an entrepreneur, philanthropist, fashionista, and writer. Never one to wallow in self-pity, Valtas Schmidt applied her experiences to strengthen her leadership and management skills, which she uses to train, motivate, and mentor up-and-coming professionals. She is the founder of Glamour Press House and owns an insurance agency in Chicago. She serves on the board of directors of the Valentine Boys and Girls Club in Chicago, and started the "Old Bikeman Award," which gives new bicycles to children in need each year. Valtas Schmidt graduated from Youngstown University with a degree in mathematics education, and has her master's from the Fisher College of Business at The Ohio State University. She lives with her husband and son in Chicago.
Sue Publicover is a marketing coach and writer with a passion for finding creative solutions and helping people unleash their own potential to achieve their personal and professional goals. When she is not writing, Sue can be found strutting her stilettos on the ballroom dance floor, swimming with dolphins, volunteering with animal rescue, watching people to find new stories and characters, or searching for her next adventure. She is a single mom, living in Florida.
REVIEW COPIES AND INTERVIEWS AVAILABLE
###