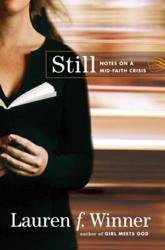 "It takes courage to put your soul through an x-ray and let the world see the breaks, the tears, the strains, the scars. Still, this is my favorite of her books yet."
— Brian McLaren, author of Naked Spirituality: A Life with God in 12 Simple Words
San Francisco, CA (PRWEB) January 24, 2012
In her critically-acclaimed memoir Girl Meets God, Lauren F. Winner explored her religious identity as she made the transition from Judaism to Christianity. A thought-provoking glimpse into 21st century religion, Winner was praised as "insatiable, and dauntless, in her search for religious truth, at whatever personal cost" by the New York Times.
In Still: Notes on a Mid-Faith Crisis (February 2012; Hardcover), Lauren offers readers a quietly powerful and fiercely honest exploration of love, loss, and what it means to land at the "middle stage" of the spiritual life. Taking her spiritual quest even deeper, she navigates difficult new terrain as she confronts the spiritual aftermath of personal tragedy.
At a time of crisis—grieving her mother's death, navigating a painful divorce—Lauren finds that she is mourning her faith as well. She hasn't lost sight of God entirely, but she's watching him gradually fade away.
Alternating between her muses and saints, including Anne Sexton, Emily Dickinson, and Jane Smiley, Lauren takes readers along on a journey through this new, murky gray area of spirituality. In turns hopeful and bitter, humorous and heartrending, she offers us "a picture of the end of the darkness, of the stumbling out of the darkness into something new."
Still allows readers a rare, personal look into the collapse of one's faith—and the hopeful exploration of something new. A beautifully rendered meditation combining literary grace with true spiritual insight, Still firmly places Lauren F. Winner amidst the ranks of top literary essayists such as Anne Lamott and Barbara Brown Taylor.
About the Author
Lauren F. Winner is the author of numerous books, including Girl Meets God, Mudhouse Sabbath, and Real Sex. She writes regularly for the New York Times Book Review, The Washington Post Book World, and The Wall Street Journal. With degrees from Duke and Cambridge and a Ph.D. in history from Columbia, Winner teaches at Duke Divinity School and lives in Durham, North Carolina.
Praise for Still:
"Compulsively readable, direct yet never indiscreet, Winner's book shows intelligence and verve as it seriously addresses the spiritual crises around God's apparent absence or silence, as faced by many. A must-have for Winner's readers and fans of Anne Lamott." — Library Journal (STARRED review)
"In present-tense, lyrical essays of varying lengths, some brief paragraphs, others pages long, the author explores her emotional landscape.…Examining feelings of grief, failure, and doubt that she never expected to encounter after her conversion from Judaism to Christianity, Winner's use of rhythm and image bring poetic nuances to her exquisitely crafted prose."
— Publishers Weekly (STARRED review)
"Lauren Winner's brave, spare, and subtle book is a great gift to the church. She lifts up doubt and absence with enough honesty to reveal the unfinished edges, and the radiance, of faith itself." — Sara Miles, author of Take This Bread and Jesus Freak
"There is a raw openness to Lauren Winner's writing that is as breath-taking as it is rugged and beautiful. I am always a bit in awe of it, in fact. But Still is more than that. Still is as persuasive and credible a testimony to the constancy of Jesus in the midst of a believer's estrangement as I have ever read or ever hope to read; and I am completely in awe of that."
— Phyllis Tickle, author, The Great Emergence
"Halfway through Still I realized that a lot of spiritual books—most, maybe—are written during a mid-faith crisis. Too few admit it. But Winner grabs God's hiddeness by the shoulders and will not let go. She knows the grace that can only be learned when we stand with Moses, staring into the raging waters, and hear a voice say, 'The LORD will fight for you; you need only to stand still.'" — Jonathan Wilson-Hartgrove, author of The Wisdom of Stability
"Still water reveals depth—as does this account of ordinary life and what lies beneath."
— Philip Yancey, author of What Good Is God?
"An unusually painful story, told with rare honesty by an unusually gifted writer."
— N.T. Wright, author of Simply Jesus
"It takes courage to put your soul through an x-ray and let the world see the breaks, the tears, the strains, the scars. Still, this is my favorite of her books yet."
— Brian McLaren, author of Naked Spirituality: A Life with God in 12 Simple Words
STILL: Notes on a Mid-Faith Crisis
By Lauren F. Winner
HarperOne, an Imprint of HarperCollinsPublishers
February 2012 | $24.99 | Hardcover | ISBN: 9780061768118
# # #