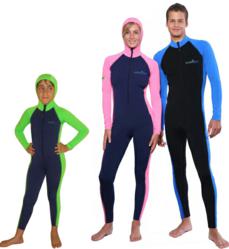 A full body stinger swimsuit can protect against skin cancer and save lives
Traverse City, MI (PRWEB) January 09, 2012
What are full body or stinger swimsuits?
Stinger Swimsuits are full body long sleeves and long legs swimsuits, used for all swimming activities and/or diving in water temperatures above 25 °C (77 °F). Traditionally these swimsuits were made from swimwear materials such as Spandex or Lycra and provide little thermal protection, but do protect the skin from jellyfish stings, abrasion and sunburn. However the new suits are much more superior in fabric quality and offer more protection features. These kind of stinger swimsuits are also known as 'dive skins'.
Why use a full body stinger swimsuit?
The original stinger swimsuit was created to provide protection against jellyfish stings, hence the name 'stinger suit'. However with the discovery of the sun UV radiation effect on skin and the damage it can cause, these suits became the corner stone for the campaign to educate people about the danger of sun bathing and how to protect the skin by using sunscreen and wearing sun protection clothing. These swimsuits not only provide protection against jellyfish stingers and sea lice, it can also protect against the sun harmful UVA and UVB radiation which ultimately causes skin cancer. Stingers suits fit like second-skin; they are comfortable to wear, trendy and are used by top surfers worldwide for use in extreme sports due to its durability and ability to withstand sea waters and harsh environment.
New superior quality stinger swimsuits with UV hood balaclava, gloves and socks
The new generation of full body stinger swimsuits can be used with matching sun protection hood, UV gloves and socks for complete skin cover-up; they use technologically advanced fabric developed specifically for use in extreme environment conditions, not only for prolonging fabric life and functions, but to ensure the skin is very well protected against the sun UV radiation which causes skin cancer, and protect from under water animal stings which causes severe discomfort and poisoning in extreme cases.
One of the latest design is hooded stinger swimsuit , as the name suggest, this suit include a built-in hood which provide head cover and uses fabric that is much superior to the traditional Lycra and Spandex material, and doesn't lose its color and elasticity in chlorinated or sea waters; below is characteristics of the latest full body stinger swimsuit:

UV protection with UP50+ rating, blocking >97.5% of the sun UV radiation
Chlorine proof suitable for use in chlorinated and sea waters.
Maintain shape and color even after many uses.
Fabric elasticity conforms to the body, allowing the best freedom in movements.
Fabric smooth and pleasant on the skin, with piling resistance.
Fabric is breathable, absorbs sweats and allows its natural evaporation.
Fabric stretches 2 ways for easy and comfortable wear.
Eco-friendly and pro-environment.
Important sun protection message
Over exposure to the sun UV radiation from early age can increase the risk of skin cancer at later stage, therefore it is important for everyone specially children to be well protected if exposed to the sun when swimming, on the beach or when spending time outdoors.
Where to get a full body stinger swimsuit, with UV hood, gloves and socks?
Stinger suits (or dive skins as they are also called) are not cheap and not easy to find in traditional swimwear or department stores. However you can research online for exclusive suppliers, one such is EcoStinger that offers a large variety of full body stinger swimsuits, covering all ages for kids, juniors, women and men. http://www.ecostinger.com
Click here to get your discounted UV hood, UV gloves and UV socks
###