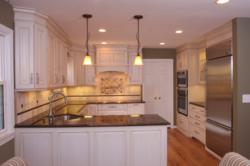 People like the fact that we are a small company, and that the owner is on the job site," said Eric.
Cincinnati, OH (PRWEB) August 31, 2011
Stirn Contracting celebrates five years as one of Cincinnati's finest kitchen and bath remodelers. The company, originally started in 1971 by Robert Stirnkorb and his son Rick, went through major transformation during the housing downturn in the 1980's. Rick took over when Robert retired and focused on commercial work, the logical path at that time. After working with Cincinnati Building and Contracting for nearly 20 years, both of Rick's sons, Billy and Eric, wanted his experience and knowledge to add to their new family-owned company, Stirn Contracting. So Rick joined forces with his boys and quickly gained a presence as kitchen and bath specialists.
"As the economy changes, companies need to do the same," said Rick Stirnkorb. "We have taken different roads in the same industry and now we have found our place, once again, working with homeowners. It seems this is the right spot for our company."
When Billy Stirnkorb announced last year that he and his family were relocating to Florida to follow his wife's career, Rick and Eric had to take another look at what they were doing at the time and make some adjustments. Billy had handled the bulk of the sales for Stirn Contracting. But with some reallocation of resources, they have continued on their path and gained a great reputation of being one of Cincinnati's premier kitchen and bath remodelers.
"People like the fact that we are a small company, and that the owner is on the job site," said Eric. "With my father's experience, we can do just about any job for a homeowner. Even though we have done a lot of kitchens, we can do, and have done, everything from roofing to basements and everything in-between."
When home prices deflate, as they have for the past couple of years, homeowners look at ways they can improve their property and stay put, rather than selling their home and taking a loss on them. By remodeling their kitchens and baths, even if they live there for several more years, those improvements generally increase the value of the home above homes without updated kitchens and baths.
With new countertops, cabinets, built-in appliances and decorative back splashes, a kitchen transformation makes a world of difference in a home. The variety of offerings to change what a kitchen looks like and how functional it can be, are innumerable. Cabinets have self-closing doors and drawers; countertops are made of dozens of materials; kitchen lighting adds mood and atmosphere; and tile or wood on the floors and walls can be personalized with the right colors and textures to please any dedicated chef. And all of that is before the expansive selection of kitchen appliances!
Stirn Contracting can help the homeowner from the beginning plans and recommend ways they can utilize their existing space or by adding on or removing walls to enhance their kitchens. Then the homeowners can work with designers, like those at Hyde Park Lumber and Design Center, to finalize their kitchen selections. Finally the appliances can be selected and the job begins. A typical kitchen remodel will take between four and six weeks, depending on the amount of work to be completed.
Stirn Contracting offers free estimates on all their work. They have a web site at http://www.stirncontracting.com and a photo gallery of kitchens and other jobs they have completed.
For more information, contact
Eric Stirnkorb
513-646-3909
Or
Rick Stirnkorb
513-497-3659
###