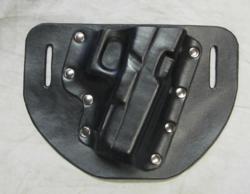 "Why put an expensive gun in a cheap holster? You want your weapon to be protected while it protects you," said Stirn Holster owner Eric Stirnkorb.
Cincinnati, OH (PRWEB) April 23, 2013
Stirn Holsters, maker of all leather, custom made, conceal and carry weapon holsters, is now offering Ring's Manufacturing Blue Guns used for tactical training by all ages and experience levels. The benefit of this additional product line is the ease of making just one purchase for tactical training products.
"We have so many customers who are just getting their first gun. By purchasing a training weapon, they get the look and feel of a real firearm while learning the basics of how to handle their weapon, how to holster it, how to remove it from their holster and how to wear their conceal and carry weapon," said owner and holster maker Eric Stirnkorb.
Over the last several months there has been a huge increase in the amount of people who are applying for Conceal and Carry permits and those who are making the purchase of a handgun for the first time. According to local General Manager Jake Spengler from Dave Kelly's Elk Creek Hunt Club, Owenton, KY, more and more women are coming to practice shooting for the first time and then becoming shooting enthusiasts. Elk Creek Hunt Club offers clay shooting which is great for practice.
Firearms of Ohio is a Cincinnati based conceal and carry training facility. "We have seen a huge increase in the number of people who want their conceal carry license," said owner Mike Lynn. "People are interested in knowing how to use that firearm that may have been sitting in their closet collecting dust. For women, we hear a lot about self-protection as the most important issue for their interest."
Stirn Holsters began making custom, all-leather holsters when owner Eric Stirnkorb got his conceal and carry permit and couldn't find a holster to suit his needs. He purchased and tried several leather and Kydex as well as all plastic holsters which he felt were either too shabbily made, uncomfortable or they didn't hold up. He wanted an all-leather holster that would be comfortable to wear as well as easy to use and durable. He decided to make his own holster. Once he began carrying it, friends of his were interested in the same excellence for their weapons and Eric started Stirn Holsters. He quickly realized the need for a high-quality product to house a high priced weapon.
Now with the addition of Ring's Manufacturing Blue Guns, people can enjoy the convenience of purchasing their holster, custom-made to fit their gun, and getting to practice drawing their weapon and other training maneuvers, with the use of a Blue Gun which looks, and feels the same as their actual weapon.
"Having these products in our line only makes sense," Eric said. "It's another way a novice gun owner can become skilled at how to use their weapon without feeling intimated while they are learning."
Stirn Holsters is located in Cincinnati, OH. Each all-leather holster is custom-made to the owners specifications as to color, right or left-hand draw and inside waist band or outside waist band. Most hand gun manufacturers are included in the holsters and Blue guns offered. For more information visit their web site at http://www.stirnholsters.com.