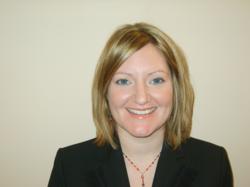 St. Louis, MO (PRWEB) May 08, 2012
Kristy Kelley, a well-respected veteran of the St. Louis BBB, has resigned from her role as the non-profit's vice president of accreditation to become an entrepreneur.
The 34-year old Kelley is moving on after nine years in three different positions with the Better Business Bureau Serving Eastern Missouri and Southern Illinois. She was a key force promoting online shopping safety, business accreditation, and expansion into mid-Missouri.
"I'm very proud of what we've been able to accomplish over the last nine years," Kelley said. "We've been able to help make the entire region a better place to live, work, and do business by encouraging positive, ethical business practices."
"I'm leaving a BBB that has a strong leadership team and terrific employees who are determined to see St. Louis area businesses flourish. I expect to be one of those businesses."
On nights and weekends, Kelley has grown a small local website into one of the area's largest online bridal magazines and wedding vendor directories. Founded in 2002, STL Weddings has become a staple of the online wedding scene.
"There are over 20,000 engaged couples in the St. Louis region right now," said Kelley. "It's no secret the majority are going online to research and plan their weddings."
"Technology is making traditional marketing such as print advertising, junk mail, and trade shows less effective and more expensive. On the other hand, STL Weddings is focused on helping wedding businesses connect with brides."
Brides connect with potential vendors through the website's St Louis wedding guide. The interactive guide allows brides to view photos, watch videos, download coupons, and rate and review hundreds of St. Louis wedding businesses.
STL Weddings also supports over 1,300 Facebook fans and more than 6,100 Twitter followers. For Kelley, these communities represent a simple way for brides to share their common experiences and recommendations.
"We're constantly looking for innovative ways to get relevant and trustworthy information to St. Louis brides," Kelley said. "We like to say we take the guesswork out of planning a wedding in St. Louis."
"We've been successful because we're real and we're local. We get to know our brides and vendors—online and in the real world. If you're a wedding business looking to get your name in front of real St Louis brides, then look no further than STL Weddings."
About Better Business Bureau
The BBB is a nonprofit, business-supported organization that sets and upholds high standards for fair and honest business behavior. The BBB provides objective advice, free BBB Business Reviews on more than 4 million companies, 11,000 charity reviews, dispute resolution service, alerts and educational information on topics affecting marketplace trust. Please visit http://www.bbb.org for more information.
About STL Weddings
STL Weddings is a local online wedding magazine and bridal directory reaching over 20,000 brides and grooms each month. Based in St. Louis, Missouri, the website (featuring St. Louis wedding vendors) exists to take the guesswork out of planning a wedding in St. Louis, Missouri. For more information, please visit http://stlweddings.net.
Contact:
Tyler Kelley
STL Weddings
(314) 329-5550
info [at] stlweddings {dot} net