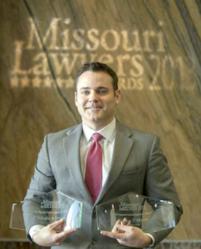 We have never been afraid to go to trial and I am extremely honored to receive this recognition for our trial results.
St. Louis, Missouri (PRWEB) February 19, 2013
Joshua P. Myers, founding partner of Schultz & Myers, LLC, has been awarded the prestigious "Missouri's Winningest Attorney" award, by the Missouri Lawyers Weekly. This well-respected legal trade publication has been actively involved in reporting all aspects of legal news in Missouri since 1987. In determining who to honor, the publication reviews the verdicts reported by all lawyers across the state of Missouri over the past year. Over the past year, Joshua Myers obtained numerous large verdicts. His verdicts in the past year include a $546,000 verdict against a drunk driver in the Circuit Court of Iron County, Missouri (Case 07IR-CC00050) which is believed to be one of the biggest personal injury verdicts ever to come out of the county and a verdict of $11,494,637 obtained in the Circuit Court of The City of St. Louis, Missouri (Case 1222-CC09848) which was the second biggest wrongful death verdict obtained by any Missouri lawyer in 2012.
Since its inception, Schultz & Myers, LLC has been striving to become the Best Personal Injury Law Firm in St. Louis. This is exemplified by the fact that in just the past several years, the firm has obtained more than $40 Million in judgments and settlements and its founding partners have been interviewed by numerous media outlets including Fox 2 News and Good Morning America. The firm reports that they exclusively handle Personal Injury Cases, which stems from their philosophy that the best way to completely master one area of law is to focus solely on that area. In this age of specialization, a legal firm cannot be all-things-to-all-people, and claim to offer the highest level of expertise in each area of law.
During a recent interview, Josh Myers explained that the Insurance Companies are well aware of which attorneys have the knowledge and experience to properly develop a case, including using expert witnesses, and other forensic evidence to prove their case. "It still astounds me how many lawyers will settle when push comes to shove because they are either to afraid to go to trial or they just do not know how to try a case. The problem is that the insurance companies keep files on lawyers and they know who will take them to trial and who will not. Of course, this affects the value of the settlements. We have never been afraid to go to trial and I am extremely honored to receive this recognition for our trial results."
St. Louis Injury Attorney Joshua P. Myers has built a reputation as being a tenacious fighter for the legal rights of his clients. A no-nonsense approach has propelled him to the top of the legal profession, and has earned him the respect of the insurance companies. From the beginning, he has steadfastly refused to become a "settlement-mill", where cases are handled by paralegals, anxious to settle on the first offer by the insurance company.
This award is the latest of numerous honors bestowed upon Myers in the past several years. In 2010, he was named as one of Missouri Lawyer's Weekly's Up & Coming Lawyers. He has also been repeatedly named by the National Trial Lawyers as being among Missouri's Top 100 Trial Lawyers and also one of the state's Top 40 Lawyers Under 40. He has also been honored by Martindale with an AV Preeminent rating which is the top rating available for attorneys.
Headquartered in St. Louis, Missouri, Schultz & Myers also maintains offices in Chicago, Illinois and Bentonville, Arkansas. The firm focuses on handling personal injury cases on behalf of the injured across all of Missouri, Illinois, and Arkansas. Schultz & Myers strives to set itself apart from other law by offering exceptional service exemplified by their Client's Bill of Rights and their focus on client communication. Myers explains that the biggest complaints most people have about their lawyer is that the lack of communication. Thus, the firm has made communication a priority and therefore offers their clients a multitude of ways to contact them.
Further information about his St. Louis Personal Injury Law Firm and Joshua P. Myers can be found at his website: http://www.JoshMyersLaw.com