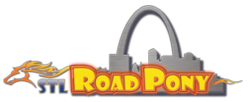 STL Road Pony is perfect for almost any type of event.
St. Louis, MO (PRWEB) April 16, 2013
STL Road Pony is a St. Louis party bus rental company that provides top-quality service and an amazing atmosphere. St. Louis Party bus rentals are essential for wedding, bachelor and bachelorette parties that are looking to provide their guests with an unforgettable experience.
"Everyone had an exceptional time with the St. Louis party bus. Every guest I had would be glad to recommend your service. Again–many thanks for a most remarkable birthday," said Carole, a happy customer. "If you ever have a customer looking for a recommendation–send them my way. What an evening! I cannot tell you how much we all loved STL Road Pony. Rick was a great driver. He took very good care of us."
STL Road Pony is perfect for almost any type of event. Whether it's a wedding, bachelorette party, bachelor party, winery trip, corporate event, concert, sporting event, or just a night out on the town, STL Road Pony has the perfect party bus.
With the new website stlroadpony.net, it's easy to browse the entire fleet of party buses, check pricing, or fill out a contact form asking for more information. The new website is also an easy way to connect with STL Road Pony on social media or find their phone number if it was lost from a previous extravaganza.
"The new website is a great addition to our company and makes it easy for new and valued customers to view and book our buses," said Jim Mohrmann, CEO of STL Road Pony. "The website also features an FAQ page, which answers just about every question you might have."
The extensive fleet guarantees there is an STL party bus ready for any sized group. Anyone looking to book a party bus for an upcoming event should visit stlroadpony.com or call 888-785-2703.
About STL Road Pony:
STL Road Pony has a wide selection of incredible party buses serving the St. Louis area. The party buses feature all the luxury amenities of a limo, but at affordable prices. The vehicles also come equipped with an amazing sound and light system. If a group member wants to be the DJ for the night, they can bring an iPod or add a DJ to the party for some extra fun.