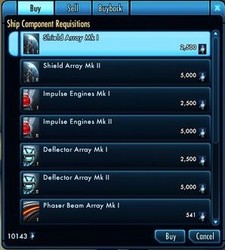 As the first online store offers STO credits, STO power leveling services, are pleasure to help each Star Trek Online player to enhance their game life. You will be satisfied as the store has five years experiences in the virtual marketing
Beaverton, OR (PRWEB) February 3, 2010
MmorpgRealm team is excited to announce that the section of Star Trek Online has been setup on its site already. In other words, Star Trek Online players are able to get STO credits directly to enhance the STO experiences. Although the star trek online is really new game(see below). The STO power leveling services is available at the store, as we joined to its open beta at the beginning.
Star Trek Online, new decent online game was launched at 12:00 a.m. in February 2010. It's the inviting news for both the fans of the Star Trek series and Massive Multiplayer Online Role Playing addicts. The game develops and publishes by CRYPTIC STUDIOS. The game is set in the 25th century, 30 years after the events of Star Trek: Nemesis.
As of the money in STO, if you have ever played any MMORPG, you should understand it's the loot of monster killing and/or mission completing. Just likely the real life, there is always virtual economy system in the fantasy spaces. It's one of the trick to consume your time in the games. It seems the CRYPTIC strives to prevent the gold exchanging through a complicated money system in STO. There are much currencies in the game. The three basic are Energy Credits(the primary one), Starfleet Merits and Explorer Badges. The energy credits could be able to trade with other players. The energy credits as the major consumables in STO are essential to get more funny from the game. Normally, we should grinding the credits by ourselves. It's the dull jobs. You should not waste your valuable time on it. That's why MmorpgRealm.com is existing.
About STO Credits, Inc.
MmorpgRealm.com, the solid online store built for MMORPG players since 2004. In the last five years, more than 1,000 million Wow gold has sold to millions of players. It is famous as a trading platform of Wow Accounts On the order hands, the team writes and/or collects tips and news for the gamers daily!
Media Contact:
Eason Yi
888-827-2538
http://www.MmorpgRealm.com
###