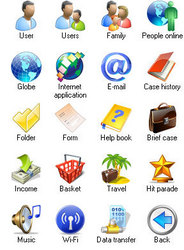 (PRWEB) May 19, 2008
Vancouver, BC (Aha-Soft) May 17, 2008 -- Aha-Soft today announces the immediate availability of Vista Toolbar Icons, a set of stock icons to trim the interface of any desktop or web application.
No doubt any e-company wants to add some color to the means of its representation: programs, websites or even documents in order to make them distinctive and eye-catching. The simplest way to do so is to decorate the front-end of a product -- in this case we start with icons. Creating professional and stylish icons is no easy task and requires talent, skills in design and days and sometimes even weeks of work. Fortunately, with the set of newest icons from Aha-Soft, creating a nice interface for desktop and web applications will no longer be a headache.
Vista Toolbar Icons delivers the newest eye-catching and most distinctive icons that provide designers with the cost-effective "specimens" for their work, relieving them of the burdensome task of creating icons. All the icons are available for viewing and downloading and can be purchased either individually or in sets. It is possible to order custom icons of your individual design. The icons are available in the following sizes: 16*16, 24*24, 32*32, 48*48 and formats: PNG, BMP, GIF and ICO. They also come in two variants: for websites and the old Windows versions and in 32-bit True Color format for Windows XP and Vista.
Aha-Soft offers a flexible purchasing policy. When purchased individually, each icon costs $5 (USD). You are welcome to contact Aha-Soft with the names of the icons you would like to purchase, and the order will be processed immediately. Moreover, a collection of icons with only some of the available sizes can be ordered. In this case you will get a discount off the usual price. Minimum purchase is 2 icons. More information on the icon set can be found at 777icons.com.
About Aha-Soft
This privately owned company was founded in 2000 and is off to a phenomenal start, receiving high praise in its first years of operation from top Internet download sites including ZDNet, TuCows and Simply the Best. Based in Krasnoyarsk, Russia, Aha-Soft manufactures advanced image processing software for professional and amateur graphic artists. Aha-Soft's line of icon and cursor tools features innovative software designs to set new standards. For more information, please visit http://www.aha-soft.com.
Product page link: http://www.777icons.com/libs/vista-toolbar-icons.htm
Direct download link: http://www.777icons.com/downloads/vista-toolbar-icons.zip
Company website: http://www.aha-soft.com
E-mail: [email protected]
Postal address: Pacific Business Centre, Att: Aha-Soft, #101 - 1001 W.
Broadway, Suite 381, Vancouver, BC V6H 4E4, Canada
# # #