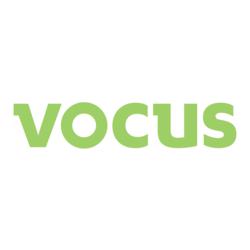 With our strong balance sheet and cash flows, we believe we can accelerate our share repurchases while maintaining the flexibility to make strategic investments and acquisitions in the future
Lanham, MD (PRWEB) August 23, 2011
Vocus, Inc. (NASDAQ: VOCS), a leading provider of cloud-based marketing and PR software, announced today that its Board of Directors has approved a $30 million increase in the current authorized stock repurchase program, raising the total authorized amount under the program to $60 million. The shares may be purchased from time to time in the open market, in block transactions or otherwise, in accordance with applicable Securities and Exchange Commission rules. The timing and amount of any stock repurchased will be determined by the Company's management based on its evaluation of market conditions and other factors.
"The Board's authorization to expand our stock repurchase program reflects our continued commitment to enhancing long-term stockholder value," said Rick Rudman, President and CEO of Vocus, Inc. "With our strong balance sheet and cash flows, we believe we can accelerate our share repurchases while maintaining the flexibility to make strategic investments and acquisitions in the future."
As of August 23, 2011, the Company had repurchased approximately 1.78 million shares of common stock for approximately $30 million under the share repurchase program initially approved by the Board of Directors in November 2008. Vocus expects to fund the repurchases with its cash, cash equivalents and short-term investments, which as of June 30, 2011 were approximately $117 million.
For more information, please follow Steve Vintz, Chief Financial Officer, on Twitter.
About Vocus
Vocus (Nasdaq: VOCS) is a leading provider of cloud-based marketing and PR software that helps organizations of all sizes reach and influence buyers across social networks, online and through the media. Vocus provides a suite of software for social media, content marketing and media relations, creating a comprehensive solution for our customers looking to generate awareness, build their reputation and increase sales in today's customer-led buying cycle. Vocus is used by more than 30,000 organizations worldwide and is available in seven languages. For more information, please visit http://www.vocus.com or call (800) 345-5572.
This release contains "forward-looking" statements that are made pursuant to the Safe Harbor provisions of the Private Securities Litigation Reform Act of 1995. These are statements that are predictive in nature, that depend upon or refer to future events or conditions, or that include words such as "may," "will," "expects," "projects," "anticipates," "estimates," "believes," "intends," "plans," "should," "seeks," and similar expressions. This press release contains forward-looking statements relating to, among other things, Vocus' expectations and assumptions concerning future financial performance. Forward-looking statements involve known and unknown risks and uncertainties that may cause actual future results to differ materially from those projected or contemplated in the forward-looking statements. Forward-looking statements may be significantly impacted by certain risks and uncertainties described in Vocus' filings with the Securities and Exchange Commission.
The risks and uncertainties referred to above include, but are not limited to, risks associated with possible fluctuations in our operating results and rate of growth, our history of operating losses, interruptions or delays in our service or our Web hosting, our business model, breach of our security measures, the emerging market in which we operate, our relatively limited operating history, our ability to hire, retain and motivate our employees and manage our growth, competition, our ability to continue to release and gain customer acceptance of new and improved versions of our service, successful customer deployment and utilization of our services, fluctuations in the number of shares outstanding, our ability to integrate acquisitions, foreign currency exchange rates and interest rates.
###