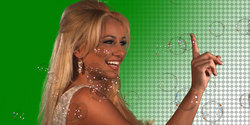 We're eager to share what we've learned. We want to continue to push the technology and help our customers and clients as much as possible.
Port Saint Lucie, Florida (PRWEB) August 12, 2009
The beauty of a glamour shot on the cover of a glossy magazine. The smile. The Look. The attraction.
What does it take to get that model on the cover? Many production budgets cannot afford or be profitable when it comes to creating this type of content, because of the studio time, equipment, crews and other expenses needed to achieve attention-getting perfection. The few productions that at one time could afford this luxury, today find themselves looking for stock media to deliver the same results for less. This allows them to stay both competitive and maintain a profit margin.
But… Imagine if you had access to a high-definition digital version of a variety of models to place seamlessly over any background. Imagine the possibilities. With GlamourKey.com, it's both possible and economical.
GlamourKey.com is a first-of-its-kind stock media website offering high-definition, royalty-free stock footage of beautiful models in front of perfectly keyed-out transparent backgrounds. These stock footage video clips offer a blank slate ready for endless ideas. You make the choice of what you what to use. It's a perfect palette offered by a team of cinematographers and models using advanced digital motion imaging and the latest green screen technology.
"It goes beyond the technology. What makes us different is our style," says Jon Schellenger, Vice President of Production for GlamourKey.com. "We're the first in the world to shoot glamorous models using green screens to create royalty-free stock footage. We also offer stock photography and location shots. It's a one-of-a-kind tool box to make your video production and post-production process easier and more economical."
GlamourKey recently decided to expand its audience to online developers and website designers who incorporate Adobe Flash Video (.flv) files into their websites. These Adobe Flash Video files (.flv) are competitively priced to attract designers typically working with smaller budgets. Adobe Flash Video files from GlamourKey (.flv) allow a webmaster to stay within the native website development applications such as Flash, Dreamweaver or GoLive. By offering the same video content with a straight-alpha channel to webmasters, GlamourKey's footage can be infinitely customized.
GlamourKey.com is the result of a team who's spent more than 20 years in all facets of advertising and video/film production - from talent acquisitions to directing - from shooting to editing films in post production. With an outstanding amount of creativity and access to RED ONE Digital Cameras, the team's plan is to create unique royalty-free glamour media and content that can be accessed by a variety of advertising and production companies when they need it; at a price they can afford.
"Working with the RED ONE - we're working in a 4k environment. Because the grain is so fine, we protect almost every pixel, whether it represents a strand of hair or the shimmer of a delicate bubble. It gives you a higher degree of realism. Detail makes 4K a glamorous format," says Schellenger. "We also downsize to 2K so you can have instant access to the content. The great thing about 2K is it can instantly be adjusted to work with any project." GlamourKey understands that many professionals have never experienced this type of quality. GlamourKey is offering sample promotional files for free as well as 4k files shipped at a drastically reduced price for a limited time so that the post production industry can obtain a glimpse and understands the advanced technology being offered. GlamourKey's stock footage content and today's film editing computer software, gives all experience levels the ability to deliver top-quality cinematic results at a fraction of the cost.
GlamourKey.com also offers custom services for companies looking to utilize GlamourKey's green screen technology and expertise. Schellenger is excited when it comes to satisfying each customer, "We're eager to share what we've learned. We want to continue to push the technology and help our customers and clients as much as possible."
For more information on GlamourKey please visit GlamourKey.com
or call Lon Zimmerman, VP of Marketing, directly at 561-758-6653
# # #