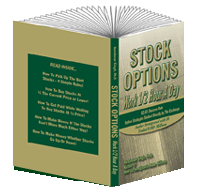 Why buy stocks at full prices while one can buy them at 1/2 prices through stock options!
Oyster Bay, NY (PRWEB) April 30, 2012
Looking for Stock Market Directions?
Simply Google Search, 'Stock Market Directions' to find Dr. Harsimran Singh's book, "Stock Options-Work 1/2 Hour a Day" being Ranked #1. There is a good reason for this book being ranked on the top as author traded over $100 million in his personal account before sharing 35 years of his trading experience. Dr. Singh is a Ph.D. in Business Economics with a specialization in Stock Market Trading.
It may be hard to believe but majority of people who trade stock options lose money more often than they make money. Dr. Singh feels that one of the main reasons for people losing money is because they get their advice from advisers who are ill-informed. In his words, "They are like swimming instructors who teach people how to swim without ever going in the water themselves."
For Dr. Singh, it is much different. He has jumped into the deepest of water in the stock market. Throughout this experience, Dr. Singh has tried many different strategies to find which ones work best. Acquiring this knowledge cost him millions of dollars. But now, in his book, Stock Options-Work ½ Hour a Day, Dr. Singh offers his valuable knowledge and experience for the mere price of a book.
Dr. Singh has laid emphasis on the following topics in his book:
1. How to buy stocks at ½ the current price or lower!
2. How to get paid while waiting to buy stocks at ½ prices!
3. How to make money if the stocks don't much either way!
4. How to make money whether stocks go up or down!