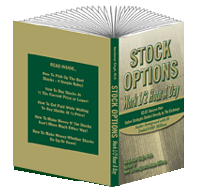 If you work more than 1/2 hour a day to trade options, you need to learn a better strategy or go to casino to gamble.
Upper Brookville, NY (PRWEB) May 29, 2012
Dr. Harsimran Singh believes in lazy and easy way to make money. According to Dr. Singh, the harder one works, lesser one makes. If one works more than 1/2 hour a day trading options , one needs to learn a better strategy. That's what prompted him to write the book, "Stock Options-Work 1/2 Hour a Day". The following information is extremely useful these days as stock market is extremely volatile.
Amazingly, Dr. Singh says that neither he knows nor anyone else knows the stock market's direction. No one knows. It is just that simple. If anyone claims that he knows what the stock market is going to do in the coming day, month or year. Simply run away from him as fast as one can. It can save one a lot of money.
Dr. Singh in his book wrote down 28 strategies to trade options. At the beginning of each chapter, he wrote, "These strategies have been presented for academic reasons. This shall not constitute a recommendation of these strategies to any individual." He wrote one chapter which he named as, "Best strategies' which among some other strategies describes the ways to buy stocks at half or less price by using the following method. This is what he wrote in this chapter:
"This chapter is centered on the thought of selling naked puts because that is the way to accumulate shares at prices below the current market price. There is so much written against the idea of selling naked options that I dare to oppose it. Most brokerage companies discourage the idea of selling naked options. Why? I still have yet to find the answer to that question."
"While I am opposed to the idea of selling naked calls, I am very much in favor of selling naked puts. If you sell a naked call, the stock may appreciate higher than you can imagine. Either you will end up buying the option back at a much higher premium or buying the stock at a much higher price, if the option gets exercised."
"The reverse is true for the selling of put options. If you have decided to buy a certain stock at a certain price, why not consider buying it at half that price or less? Selling the put options at a lower strike price can make it possible."
"One major difference between Naked Puts and Naked Calls exists. It is control after a losing trade. Having a Naked Put exercised will result in you owning stock. This gives you the potential to make back your loss on the option trade by the potential appreciation of the resulting long stock position. When a Naked Call is exercised, you purchase the securities in the open market and deliver them. There is no further opportunity to recapture money. When choosing to sell naked puts, select the stocks and strike prices with the following in mind:
1. Sell the puts as close to the $2.50 strike price as possible so your downside risk is limited.
2. Never sell more puts equal to more shares than you would be willing to own. If you are only willing to own 200 shares of a stock, do not sell more than 2 puts."
About the author:
Dr. Harsimran Singh earned a Ph.D. in Business Economics with specialization in Wall Street trading. He migrated to the United States with a total of $8 and traded over $100 million in his personal account. His book Stock Options-Work ½ Hour a Day is a gist of his 35 years of trading experience.