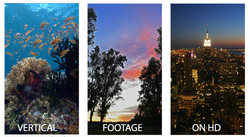 Monterey, CA (PRWEB) May 20, 2008
Monterey, CA May 19, 2008 - Footage Search, Inc., operators of the Nature Footage stock footage collection, announces a new collection of spectacular High Definition Vertical Stock Footage. The collection captures the beauty of nature for vertical displays. This unique perspective, resulting from the camera being mounted vertically, is designed for a new eye-catching approach to digital signage, in-store displays, online advertisements, and exhibits. The rapidly growing collection includes a wide range of underwater marine life, time-lapse scenic landscapes, and city destinations.
About NatureFootage
NatureFootage offers one of the largest and finest stock footage collections of the natural world. The online interface is powered by the proprietary technology created by Footage Search, Inc.
From Standard Definition to High Definition video and film, the NatureFootage collection and industry-leading E-commerce interface offers clients the highest standard in search, preview, purchase, and delivery, for rapid and easy access to nature stock footage.
For more information about the NatureFootage collections, or its capabilities, and services, please contact the company's founder, Dan Baron, at 1-831-375-2313. For images, interviews, or additional background information on NatureFootage, please contact Donna Kaufman, at 1-831-375-2313.
###