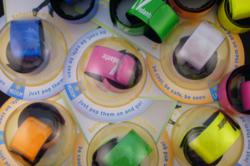 Vedante's mission is to promote nighttime visibility through highly reflective and durable products that are also fashionable and fun.
London, United Kingdom (PRWEB UK) 17 November 2011
How would you like to give a gift this holiday season that keeps loved ones safe all year?
Amazon UK recently started offering this extremely high ranking Amazon USA product to their customers.
More people are discovering Vedante's super-reflective POP BANDS made with 3M's Scotchlite, which is reflective up to 450 meters (700 CPL). Unlike other companies that are experiencing diminishing sales, Vedante's sales have been steadily growing. Customers are reporting that they purchase POP BANDS because they are looking for inexpensive, unique, and fun gifts that make a difference. On Amazon.com, POP BANDS remain in the top of both wish lists and bestseller lists.
"POP BANDS make great stocking stuffers and holiday gifts," said Vedante CEO Barbara Kantor, who attributes the marked increase in sales to holiday gift purchases. "Now that the nights are longer, POP BANDS are an important and timely gift to keep friends and loved ones safe during nighttime outings."
POP BANDS provide 360° visibility at night when worn on the arms and legs. They can also be snapped onto bikes, purses, and backpacks. Designed to reflect a large amount of light, POP BANDS have a level of reflectivity that is much higher than in similar products.
Vedante has intentionally kept retail prices low, so POP BANDS are inexpensive gifts even in difficult economic times. See below for the list of benefits for this innovative product. For an online demo, visit YouTube: http://www.youtube.com/watch?v=p5fH9WYWEtY&feature=player_embedded
Vedante Super-Reflective POP BANDS™

POP BANDS™ are a life-saving product
Much more reflective than similar products - up to 450 meters
Inexpensive, fun stocking stuffers
Can be bought in multiples for gifts
Ideal for nighttime walking, biking, and jogging
Makes dancers colorfully seen in night clubs
Keeps sports fans reflecting in team colors
Provides visibility during long winter nights
POP BANDS™ are fun and fashionable
POP BANDS are available in a wide array of colors (yellow, white, tangerine, pink, blue, and green). The material used for the yellow, white, and tangerine is EN471 compliant. Even though POP BANDS aren't specifically listed on official safety lists, they are often worn by construction crews and other nighttime work teams to bring lightheartedness and safety to their jobs. Kantor developed her line of reflective products with both safety and fun in mind, saying, "We have a genuine opportunity to increase nighttime safety and save lives. Vedante's mission is to promote nighttime visibility through highly reflective and durable products that are also fashionable and fun."
Available for purchase through Amazon UK and 1000 Mile, as well as from select retailers (http://vedante.com), POP BANDS come in both medium (30cm long) and large (38cm long). Pop Bands are priced on Amazon UK at £12.99 for a package of two.
Amazon customers have said good things about Vedante POP BANDS, including the following review:
"I LOVE these POP BANDS … I use them when out on nighttime dog walks and feel safe knowing I can now be seen by cars. This is especially comforting in the winter months and during low visibility times, since there is not enough daylight to get my morning and evening dog and people exercise in. These products are a must for all outdoor activities when visibility is a safety issue. Whether you are biking, walking, jogging, skiing, etc., be seen and be safe!"
About Vedante:
CEO Barbara Kantor founded Vedante in 2006. Barbara's inspiration came during an evening walk when she witnessed a pedestrian being struck by a car. The pedestrian, in a cross walk, was unaware of the driver's inability to see her. Deeply impacted by what she saw, Barbara delved into research on safety and visibility and then studied reflective products that were currently on the market. Barbara's research and her 25 year background in fashion design led to her development of Vedante reflective safety products that are attractive and easy to use.
Vedante is a company committed to saving lives by increasing nighttime visibility and decreasing accidents through education, awareness campaigns, and "fashion that reflects well on you."
Vedante has consistently ranked among the top 10 best sellers in the United States at Amazon.com in its respective categories for super-reflective Pop Bands and pet accessories.
To locate a local retailer visit http://www.vedante.com as well as at Amazon.co.uk
For safety tips, deal alerts and fun stories follow Vedante on
Facebook
Twitter: @VedanteFDN
###