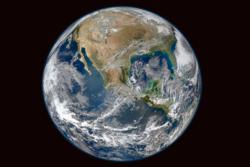 The website provides for a much better user experience, both in terms of browsing and visual appeal.
Orlando, FL (PRWEB) February 01, 2012
Stocktrek Images, a professional stock photography agency specializing in military, space and natural photography, unveiled its new website design today. After spending months working on the new design, visitors can finally have a look at the new layout at http://www.stocktrekimages.com.
Ryan Rossotto, Stocktrek Images president said that, "The new site has turned out exactly how we envisioned it. The website provides for a much better user experience, both in terms of browsing and visual appeal." Rossotto went on to explain the main reason for the website redesign was to better focus on the company's collection of specialty stock images.
Stocktrek believes that the new website design will make searching for stock photos on its site easier, and customers will be much more satisfied with the simplicity of locating that perfect photo. The company has continued to experience a tremendous growth in the size of its photo library, and the new website design will allow it to better display their diverse image collection. Thanks to the wide variety of stock photo providers that Stocktrek works with, customers are able to constantly find new material.
The new website will provide visitors a convenient and easy method of browsing the four specialty collections offered by Stocktrek: Military Forces, Space Exploration, Dinosaur Illustrations, and Underwater Photography. The new system allows for easy access to the newest and most popular rights managed and royalty free stock photos using popular phrases and keywords.
In addition to all of the visual updates, Stocktrek has also upgraded its keyword search system. It has added thousands of new words, phrases, synonyms, and conceptual keywords to its search engine. The search, lightbox and order functions continue to work as before, so the new look will not change its familiar functionality.
Visitors are encouraged to head over to StocktrekImages.com to check out the new design and try out the new browsing functionality. Exclusive deals, news and updates regarding Stocktrek may also be found at:
Stocktrek on Twitter: @StocktrekImages
Stocktrek on Facebook: facebook.com/stocktrek
About the Company: Stocktrek Images is a stock photography agency specializing in imagery of military forces, space exploration, dinosaurs, volcanic activity and underwater photography. In addition to licensing royalty free and rights managed stock photos and illustration, Stocktrek also provides customers with the capability to purchase any images as a print or poster. It offers many different types of wall décor, from greeting cards to basic prints with custom frames.
While Stocktrek is primarily known for its space and military content, it continues to expand its various product offerings. Stocktrek represents the talented work of photographers and artists worldwide, with over 15,000 images in its online library, and thousands more in-house. Stocktrek is an independent, privately owned business entity.
###