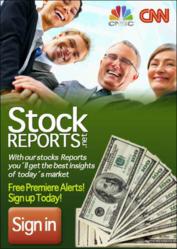 New York, NY (PRWEB) March 22, 2012
Galena BioPharma is among companies posting the largest volume increases today. 7 Million Shares have traded within the first 30 minutes of the day.
The PPS has also gone up as much as 28%. Recent news from Galena BioPharma include a notice of allowance patent as well as the addition of a renowned breast cancer physician to its scientific advisory board.
The question of how long the rally can continue comes to any investors mind when looking at Galena BioPharma.
Get the Free Trend Analysis Report :
http://www.stockreports.net/stocks/GALE
Another Biotech that is a Must Watch is Pozen Inc. The trading volume is more than 30 times the 3 months average. Shares have already fone up as high as $5.73 but have yet to catch up with the 52 week high.
Pozen Inc just recently announced positive developments concerning its ulcer free aspirin.
Get the Full Report here : http://www.stockreports.net/stocks/POZN
StockReports.net also issues momentum alerts on stocks that can provide gains to day traders.
Stock Reports provides members with timely information and exclusive alerts on cheap and under-valued stocks in the United States with the potential
to deliver gains of 100% - 200% or more.
StockReports.net monitors and scans the markets for stock related signals as well as any external factors that might bring trading opportunities.
Through a vast network of IR professionals StockReports.net is often in the know of several large investor awareness campaigns being deployed.
Timing is everything when trading Penny Stocks. Gain an Edge by joining the StockReport.net newsletter and receiving alerts from a Pro-Active team of researchers.
Stock Reports believes traders should have a chance at successfully trading Penny Stocks and invites traders and investors you to be part of the Free VIP membership.
Simply sign up for free and start receiving exclusive alerts.
Subscribe Here: StockReports.net
Disclosure: StockReports.net is not a registered investment advisor and nothing contained in any materials should be construed as a recommendation to buy or sell securities. Investors should always conduct their own due diligence with any potential investment. StockReports.net is a wholly owned entity of a financial public relations firm. We have not been compensated by any of these companies for this release. Please read our report and visit our website, for complete risks and disclosures.