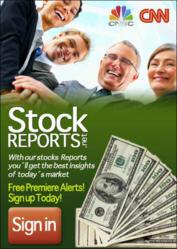 New York (PRWEB) March 23, 2012
Today's Penny Stock Gainer is Solos Endoscopy. Shares reached a high of $0.02 representing a gain of over 45% in a single day. Solos Endoscopy has been getting a lot of attention from investors lately and has seen PPS go up from $0.0089 two days ago to $0.02.
Solos Endoscopy, Inc. is a healthcare technology company whose mission is to develop and market breakthrough technology, applications, medical devices, and procedural techniques for the screening, diagnosis, treatment and management of medical conditions
Is the momentum of Solos Endoscopy over or will it continue ? Find out in the StockReports.net Trend Analysis:
http://www.stockreports.net/stocks/SNDY
TearLab Corporation released its consolidated financial results for the quarter and year ended in December 2011. While the revenues were not as large as last year, the last quarter saw a increase in sales despite limited distribution.
The FDA's issuance of CLIA waiver at the end of January 2012 was the final approval needed for the full commercialization of the TearLab(R) Osmolarity System in the U.S., and it came together with Medicare reimbursement of $46.80 per patient across all U.S. states.
This most recent development could further push sales of Tear Lab and help push the PPS higher.
Get the Full Report here : http://www.stockreports.net/stocks/TEAR
Glu Mobile was among the most actively traded stocks on the Nasdaq today and over 11M shares.
Shares climbed nearly 17% after Needham initiated coverage of the wireless-game maker with a strong buy rating.
Glu Mobile is a leading global developer and publisher of Social Mobile games for smartphone and tablet devices. Glu's unique technology platform enables its titles to be accessible to a broad audience of consumers all over the world - supporting iOS, Android, Windows Phone, Google Chrome and beyond.
Get the Full Report here : http://www.stockreports.net/stocks/GLUU
Cost Plus reported earning yesterday. Cost Plus booked revenue of $364.3 million. The five analysts polled by S&P Capital IQ wanted to see revenue of $361.9 million on the same basis. GAAP reported sales were 6.7% higher than the prior-year quarter's $341.6 million.
Get the Full Report here: http://www.stockreports.net/stocks/CPWM
StockReports.net also issues momentum alerts on stocks that can provide gains to day traders.
Stock Reports provides members with timely information and exclusive alerts on cheap and under-valued stocks in the United States with the potential to deliver gains of 100% - 200% or more.
StockReports.net monitors and scans the markets for stock related signals as well as any external factors that might bring trading opportunities. Through a vast network of IR professionals
StockReports.net is often in the know of several large investor awareness campaigns being deployed.
Timing is everything when trading Penny Stocks. Gain an Edge by joining the StockReport.net newsletter and receiving alerts from a Pro-Active team of researchers.
Stock Reports believes traders should have a chance at successfully trading Penny Stocks and invites traders and investors you to be part of the Free VIP membership.
Simply sign up for free and start receiving exclusive alerts.
Subscribe Here: StockReports.net
Disclosure: StockReports.net is not a registered investment advisor and nothing contained in any materials should be construed as a recommendation to buy or sell securities. Investors should always conduct their own due diligence with any potential investment. StockReports.net is a wholly owned entity of a financial public relations firm. We have not been compensated by any of these companies for this release. Please read our report and visit our website, for complete risks and disclosures