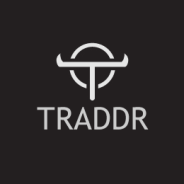 traddr! offers a unique combination of becoming informed while networking, which is a lot more interesting than culling data from Bloomberg reports - GigaOm
New York, NY (PRWEB) September 14, 2012
After being in business for only a few short years, this young upstart on a shoestring budget has finally done it: closed an initial round of Angel funding to the tune of $1.2 Million dollars for expansion and development. Under the leadership of Chief Executive Officer Roger Carter, the network has gone from a little-known destination for traders into a hub of over two thousand professional and active traders.
Whether exchanging ideas on forex trading alerts, trading volume, or Wyckoff vsa, the traders in this niche community have come together to change the way people invest, interact, and communicate on the social web.
"We are grateful for the opportunity to expand our vision for traddr.com" Says Mr. Carter. "With this infusion of capital we will create what will no doubt be a disruptive application for traders to communicate and share ideas in the age of social media."
About Traddr.com
Traddr is trading community 3.0 - live chat access, profiles, apps, twitter integration, blogs, videos, RSS, charts & more.