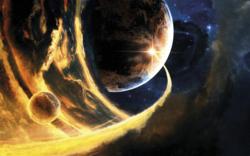 While events this big are rare, there is very little we can do to stop them from impacting Earth
Orlando, FL (PRWEB) February 18, 2013
It's fireball season on Earth, and it's off to an explosive start, when a bright meteor exploded above eastern Russia. Astronomers say the meteor marks the start to fireball season as February, March, and April are the best months to see the astronomical phenomenon in the sky after sundown. During this time, there appears to be an increase in the number of visible bright meteors blazing through the night sky, created by fragments of asteroids or comets that burn up in the Earth's atmosphere.
A fireball is a meteor that is larger and brighter than normal, often referred to as a bolide in astronomy terms. These bolides occur everyday over all parts of the Earth, yet it is rare for one person to see more than one in a lifetime.
Multiple events occurred recently to prelude the start of the season. As scientists and astronomers were busy monitoring the Asteroid 2012 DA14 close encounter with Earth, smaller meteors were making an impact elsewhere on our home planet.
The most significant event may have been the large meteor strike in eastern Russia's Chelyabinsk region. A powerful blast injuring over 900 people and a massive sonic boom caused widespread damage to thousands of buildings.
Meanwhile, people across California and Nevada spotted a radiant streak of light in the predawn sky, described as an intense flash of blue or white light that lit up the landscape, disintegrating before hitting Earth. This is not the first cosmic event here. On October 17, 2012, a monster fireball lit up the skies, and several chunks of it, meteorites, were later found in the Novato area.
"While events this big are rare, there is very little we can do to stop them from impacting Earth, says Ryan Rossotto, President of Stocktrek Images. These cosmic events have caused a number of suspicions, conspiracies, and speculation. Could this be a prelude of the we face in 2013?"
Stocktrek Images offers royalty free images of astronomical phenomenon accessible directly from Stocktrek's website. Anyone interested in learning more about asteroids, meteors, meteoriods, meteorites and other cosmic events are invited to visit http://www.StocktrekImages.com.
About Stocktrek Images:
Stocktrek Images is a stock photography agency specializing in images of military forces, space exploration, dinosaurs, volcanic activity and underwater photography. In addition to licensing rights managed and royalty free stock photos and illustrations, Stocktrek also provides customers with the capability to purchase any images as a print or poster. It offers many different types of wall décor, from wall murals to basic prints with custom framing.
While Stocktrek is primarily known for its space and military content, it continues to expand its various product offerings. Stocktrek represents the talented work of photographers and artists worldwide, with over 20,000 images in its online library, and thousands more in-house. Stocktrek is an independent, privately owned business entity.