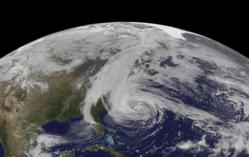 These hurricane photos portray the epic size and strength of this superstorm throughout it's path.
Orlando, FL (PRWEB) October 30, 2012
As Hurricane Sandy Makes Landfall, Stocktrek Images has curated an image collection showcasing photos of Hurricane Sandy travelling along the East Coast of the United States. The storm system has moved from the Bahamas into the Atlantic Ocean, along the eastern coast of the United States, and has now made a hard left turn inland. Hurricane Sandy made landfall on Monday evening, picking up speeds with powerful winds and rain.
Dubbed a superstorm, Hurricane Sandy is expected to combine with two other weather systems, a wintry storm from the west, and cold air coming in from the Arctic. The merger of these weather systems with Hurricane Sandy will create a dangerous superstorm, giving it a powerful boost of energy.
Stocktrek Images will be following Superstorm Sandy providing high-resolution imagery of the storm throughout it's path of destruction, and during the post humanitarian rebuilding efforts.
Stocktrek has gathered fascinating satellite photos of Hurricane Sandy that display it's menacing size in relation to the entire planet Earth, as well as it's appearance at night, and as seen from the International Space Station. These photos are readily accessible for editorial use, along with wall prints such as canvas art and basic art prints with framing options, directly available at http://www.stocktrekimages.com
"This is a ravaging storm that will cause significant amounts of damage to the Northeastern States, and will linger for days afterwards." says Ryan Rossotto, President of Stocktrek Images. "These hurricane photos portray the epic size and strength of this superstorm throughout it's path, from the Bahamas all the way to the northeastern coast."
About the Company: Stocktrek Images is a stock photography agency specializing in images of military forces, space exploration, dinosaurs, weather phenomena and underwater photography. In addition to licensing royalty free and rights managed stock photos and illustrations, Stocktrek also provides customers with the capability to purchase any images as a print or poster. It offers many different types of wall décor, from wall murals to basic prints with custom framing.
While Stocktrek is primarily known for its space and military content, it continues to expand its various product offerings. Stocktrek represents the talented work of photographers and artists worldwide, with over 20,000 images in its online library, and thousands more in-house. Stocktrek is an independent, privately owned business entity.