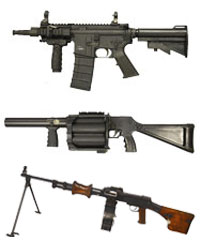 Our weapons collection features firearms from around the globe...
Orlando, FL (PRWEB) April 03, 2012
Stocktrek Images has curated yet another new gallery featuring over one-hundred types of military guns, both historical and modern. Stocktrek is the industry leader in the specialty stock photography and illustration market. The company offers a wide array of photography and illustrations representing the military, space exploration, the prehistoric eras, and underwater species.
This new weapons collection will have a specific appeal to service personnel, collectors, researchers, and anyone else who may have an interest in firearms and military weapons. The images may be used for any number of purposes, from the hobbyist to the professional military historian, or even magazines and publications.
Ryan Rossotto, Stocktrek's president, said that, "Our new line of firearms features a range of small arms, from shotguns to carbines, submachine guns to pistols. Improvement and innovation continue with weaponry, with new concepts introduced and old designs refined. Our weapons collection features firearms from around the globe which are relevant and used for appropriate training by our Armed Forces and Law Enforcement.
Rossotto is particularly excited about the historical photographs, especially the World War II weaponry. Rifles and machine guns such as the iconic M1 Garand Rifle and Thompson submachine gun are now on display at Stocktrek. In addition to the historically important weapons, the site also features modern firearms from manufacturers such as Heckler & Koch, Kalashnikov, and Beretta, including the Uzi and AK-47 models. Also featured are many Russian influenced guns such as the PKM general-purpose machine gun, including Chinese variants, and many other firearms from regions throughout the world.
Stocktrek's firearm collection is easily searchable by the guns caliber, manufacturer, geographical origin, and many other designations. The weapons collection provides a visual timeline of the development of these historically important firearms that makes browsing and searching both easy and fun. The images are superb for publishing and editorial use, and this "online armory" will continue to grow as the company adds to its collection.
In addition to the firearm collection, Stocktrek offers a variety of other military weapons and artillery in its gallery, including grenade launchers, mortars, and anti-tank weapons. Anyone in need of a personnel carried firearm or weapon, either historical or modern, are encouraged to visit http://www.StocktrekImages.com.
About the Company: Stocktrek Images is a stock photography agency specializing in imagery of military forces, space exploration, dinosaurs, volcanic activity and underwater photography. In addition to licensing rights managed and royalty free stock photos and illustrations, Stocktrek also provides customers with the capability to purchase any image as a print or poster. It offers many different types of wall décor, from wall murals to basic prints with custom framing.
While Stocktrek is primarily known for its space and military content, it continues to expand its various product offerings. Stocktrek represents the talented work of photographers and artists worldwide, with over 15,000 images in its online library, and thousands more in-house. Stocktrek is an independent, privately owned business entity.