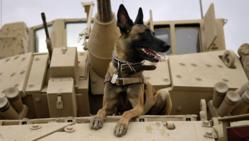 Our four-legged friends are not often mentioned... but they play an active role in our Armed Forces.
Orlando, FL (PRWEB) March 26, 2012
Stocktrek Images announces the launch of a new gallery dedicated to the hard working military dogs of the U.S. Armed Forces. Military working dogs are the unsung heroes of the military, having been used by the armed forces since World War I. Stocktrek is pleased to have put together an unparalleled stock photo collection built specifically around these heroic canines.
Ryan Rossotto, the president of Stocktrek Images, said that, "We are excited to make this high quality photo collection of military dogs available to the public. Our four-legged friends are not often mentioned when people talk about the U.S. military, but they play an active role in our armed forces." Military dogs are comprised primarily of German Shepherds, Dutch Shepherds, and Belgian Malinois. The new photo collection is comprised primarily of these dog breeds.
Members of the U.S. Armed Forces view military working dogs as soldiers. The dogs and soldiers on the ground are working partners. There is nothing a dog handler will not do to protect their dogs. They have a very special bond with each other, they travel together, sleep together, and even live together.
Daily military dog duties may include trips to entry control points, basic patrolx, maneuver and mobility support operations, search and rescue, main supply route security and mandatory training. These essential dogs even help in the disposal of improvised explosive devices. Military working dogs strengthen the operational abilities that their human companions must carry out in the field. The dog's keen senses of smell and hearing make them far more effective at detecting these dangers than humans. They are capable of working in any type of combat environment.
Individuals interested in this very specific niche market of photos for either personal or professional use are invited to peruse the new military working dog collection at Stocktrek Images online. The collection is set-up in an easy to browse format that allows consumers to find an image that will suit their needs. While on the site, visitors will also find a large array of other stock photography specific to the military including fighter planes, naval forces, artillery, tanks and a plethora of other pictures.
Stocktrek Images also carries a wide array of specialty imagery that may be of interest to some clients. Customers interested in Stocktrek Images various offerings are also invited to check out both its Facebook page and Twitter feed. Exclusive deals, news and updates regarding Stocktrek can be found on these social media platforms.
Social Media:
Stocktrek on Twitter: @StocktrekImages
Stocktrek on Facebook: http://www.facebook.com/stocktrek
About the Company: Stocktrek Images is a stock photography agency specializing in imagery of military forces, space exploration, dinosaurs, volcanic activity and underwater photography. In addition to licensing rights managed and royalty free stock photos and illustration, Stocktrek also provides customers with the capability to purchase any images as a print or poster. It offers many different types of wall décor, from basic prints to acrylic prints with custom frames.
While Stocktrek is primarily known for its space and military content, it continues to expand its various product offerings. Stocktrek represents the talented work of photographers and artists worldwide, with over 15,000 images in its online library, and thousands more in-house. Stocktrek is an independent, privately owned business entity.