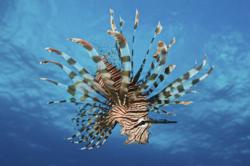 The incredible diversity of underwater marine life is simply stunning.
Orlando, FL (PRWEB) April 24, 2012
Stocktrek Images introduces a further offering in its stock photo collection. After much selection, deliberation and discussions, Stocktrek has released a one of a kind, curated online underwater photography collection capturing the wonders and natural beauty to be found undersea, in high-resolution imagery.
Stocktrek strives to provide customers a strong source for premium, hard to find imagery, along with world-class customer support. It currently houses thousands of underwater stills and aims to grow its high quality collection quickly.
Ryan Rossotto, Stocktrek Image's president, stated that, "The underwater collection is a personal favorite of mine. The incredible diversity of underwater marine life photos that we now offer is simply stunning. Presenting our customers with a beautiful selection of photos from aquatic habitats and ecosystems is a dynamic new offering that customers are already taking advantage of."
The new underwater collection features imagery focusing on various marine environments and underwater ecosystems. The collection includes a wide array of colorful sea creatures, schooling fish, sharks and rays, reef species, seascapes, crustaceans, nudibranch, and much more. There is also a large offering of scuba diving and other themes from coral reefs and open ocean habitats.
Stocktrek Images underwater photo gallery covers geographical areas spanning the entire world. Many of the photos included in this collection encompass exotic places from some of the most remote locations in the world.
Stocktrek Images is a stock photography agency that works with a select group of talented and award-winning underwater photojournalists from around the globe. It offers their photographs for purchase as fine art prints and stock images under royalty free or rights managed licensing.
At the present time, Stocktrek Images is also accepting image submissions in the underwater realm from new photographers. Interested parties are invited to peruse its website at http://www.StocktrekImages.com to get a better idea of what Stocktrek is all about.
About the Company: Stocktrek Images is a stock photography agency specializing in imagery of military forces, space exploration, dinosaurs, volcanic activity and underwater photography. In addition to licensing royalty free and rights managed stock photos and illustrations, Stocktrek also provides customers with the capability to purchase any images as a print or poster. It offers many different types of wall décor, from wall murals to basic prints with custom framing.
While Stocktrek is primarily known for its space and military content, it continues to expand its various product offerings. Stocktrek represents the talented work of photographers and artists worldwide, with over 15,000 images in its online library, and thousands more in-house. Stocktrek is an independent, privately owned business entity.