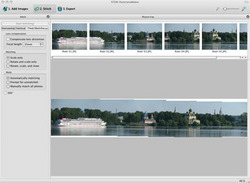 STOIK PanoramaMaker for Mac is fast and convenient way to automatically create horizontal, vertical, 360-degree and tiled panoramic photos on Mac.
(PRWEB) February 2, 2010
STOIK Imaging announces the release of the Mac edition of famous STOIK PanoramaMaker.
STOIK Imaging has announced the availability of STOIK PanoramaMaker for Mac: The famous Windows panorama making tool is now available for Mac.
Literally all of the existing solutions fail to render the image properly when a moving object gets in the picture: blurred or misshapen images ruin the shot. STOIK PanoramaMaker for Mac has a special algorithm (Object-Preserving Blending), which makes allowance for that issue and stitches the exposures error-free. Among available features are lens and geometrical compensation, manual matching of images. Minimizing uneven brightness, double-edge defect and curves in the picture are the application's commons.
The workflow takes only 3 steps: adding images, selecting the stitching mode, and obtaining the result. The automatic image transformation, alignment and color blending are optimized to correct differences in brightness, color balance, and camera tilt angle. The application automatically assembles horizontal, vertical, 360-degree and tiled panoramas. The new version also adds the automatic creation of tiled panorama from several rows of photos or a panorama from photos taken with different camera focal length. In complex cases, the images can be assembled and stitched manually.
Pricing and Availability:
STOIK PanoramaMaker for Mac is compatible with Mac OS X (10.4, 10.5 and 10.6) and costs 39 USD for a single-user license. Further information on the product, as well as its 30-days fully functional trial version, is available at STOIK PanoramaMaker for Mac product page.
About STOIK Imaging:
STOIK Imaging is one of the top developers of image and video editing software and one of the leading providers of OEM and retail software. Established in 1994 with headquarters in Moscow, Russia, it now has subsidiaries in USA, UK, China, Japan, and Czech Republic. The company's major product line includes photo, video and hobby applications, business solutions (libraries and SDK). Among the company's clients are: Samsung, Ricoh, HTC Corp., Athentech Technologies, and CeWe Color.
NOTE TO EDITORS: Please let us know (see contact details) if you have questions or need any additional information on STOIK PanoramaMaker for Mac, e.g. registration key for your personal needs and review.
STOIK PanoramaMaker for Mac product page: http://www.stoik.com/PanoramaMaker_Mac/
###