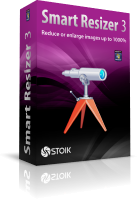 The new Super Resolution algorithm maintains overall crispness, high level of details and straight, jaggy-free lines throughout the image.
(Vocus/PRWEB) March 03, 2011
STOIK Imaging adds an all-new Super Resolution upscaling algorithm to STOIK Smart Resizer, an intelligent photo enlargement tool. The new Super Resolution algorithm maintains overall crispness, high level of details and straight, jaggy-free lines throughout the image.
About the Super Resolution Algorithm
Depending on the selected mode, the algorithm looks for textures-based shapes common to natural landscapes: grass, foliage and fur, or straight lines and regular geometric shapes appearing in architecture shots and urban scenes. After detecting similar shapes and textures in different areas of original image, the Super Resolution algorithm upscales the image to higher resolution while maintaining the best quality of original shapes and textures throughout the enlarged image.
Textures-based algorithms are used to maintain and enhance details in natural sceneries, while upscaled urban landscapes and architecture shots will appear crisp and free of jaggies thanks to the ability of Super Resolution technique to detect regular gradients, straight lines and similar geometric shapes.
About STOIK Smart Resizer
STOIK Smart Resizer is regularly used by professional photographers to upscale images for producing super-sized prints. A wide range of adaptive, scene-oriented image interpolation algorithms allows STOIK Smart Resizer to produce crisp and detailed images blown up to 1000%. Edge crispness, smooth gradients and natural textures such as grass, foliage and fur are beautifully maintained, with all the fine details available in the original. High-resolution printing becomes possible with STOIK Smart Resizer.
In addition to upscaling, STOIK Smart Resizer can shrink high-resolution images, producing perfect thumbnails and previews for galleries or portfolios.
Algorithms used in STOIK Smart Resizer are locally adaptive. Performing local analysis of the image, STOIK Smart Resizer can detect areas corresponding to common patterns such as gradients, natural textures, contours and line art, selectively applying different interpolation methods to specific areas in the image. The combination of methods and algorithms used in STOIK Smart Resizer produces crisp, detailed enlargements displaying no or little loss of perceivable sharpness and close to what the high resolution image should look like when examined up close.
Pricing and Availability
STOIK Smart Resizer is available as a free, time-limited evaluation download. The unlimited full version is available for $49.
More information available at STOIK Smart Resizer product page
About STOIK Imaging
Established in 1994 by a group of talented physicists and mathematicians, STOIK Imaging develops innovative Windows and Mac software for still image and video processing. Its founders have extensive background in developing image processing and data acquisition projects for a Soviet space program. Today, the company produces a wide range of image processing solutions for consumer and professional markets, and provides independent consulting and development services. The company licensed its technologies to a number of companies from the Fortune 500 list.
###