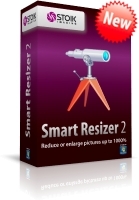 (PRWEB) October 14, 2010
The two additional scene-oriented resizing modes apply newly designated algorithms to provide quality enlargements of landscape and natural images ("Natural Scene"), cityscapes or man-made objects ("Artificial Scene"). The "Natural Scene" resizing method applies advanced fractal-based algorithms that give natural look to landscape images with lots of irregular detail and natural shapes. In contrast, the "Artificial Scene" mode detects straight lines, gradients, curves and shapes, making it a perfect choice for resizing pictures of signs, architecture, cars, marinas, human faces, and artificial objects.
About STOIK Smart Resizer
STOIK Smart Resizer gives artists and photographers the ability to reduce or enlarge images up to 1000% without perceivable loss of quality. A variety of intelligent image resizing algorithms allow shrinking or upsizing digital pictures of different nature while maintaining edge crispness, clarity, and level of detail of the original. The ability to reduce image size is often required when producing image thumbnails, portfolios, and galleries, while upsizing pictures is indispensible when printing enlargements and banner-size pictures or uploading to demanding stock agencies.
Compared to most photo editing tools offering a limited number of basic resize options such as Linear, Bilinear, and Bicubic, STOIK Smart Resizer provides a variety of algorithms to better suit the purpose as well as the particular scene. Fractal-based "Natural Scene" algorithm takes care of irregular shapes and fine details present in landscape and nature shots, while the "Artificial Scene" mode is well-suited for handling straight lines, gradients, reflections, curves and simple shapes present in cityscapes, architectural and object shots.
In addition, the fully automatic "Smart Resize" algorithm performs a comprehensive analysis of image content to detect common patterns such as natural textures, contours, and line art, applying adaptive interpolation methods selectively to specific areas in the image. The combination of methods and algorithms used in STOIK Smart Resizer produces crisp, detailed enlargements displaying no or little loss of perceivable sharpness when examined up close.
Pricing and Availability
STOIK Smart Resizer is available as a free, time-limited evaluation download. The unlimited full version is available for $49.
More information about STOIK Smart Resizer and a free evaluation download are available at STOIK Smart Resizer product page.
About STOIK Imaging
Established in 1994 by a group of talented physicists and mathematicians, STOIK Imaging develops innovative Windows and Mac software for still image and video processing. Its founders have extensive background in developing image processing and data acquisition projects for a Soviet space program. Today, the company produces a wide range of image processing solutions for consumer and professional markets, and provides independent consulting and development services. The company licensed its technologies to a number of companies from the Fortune 500 list.
###