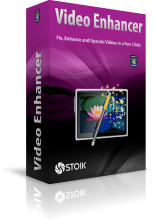 The new suite helps users improve their videos while fixing common issues in amateur videos.
(Vocus/PRWEB) March 16, 2011
STOIK Video Enhancer employs motion-adaptive noise reduction, deinterlacing, SD to HD upscaling, de-blurring and shake reduction algorithms, and offers automatic exposure and color balance correction.
About STOIK Video Enhancer
Based on the company's proprietary Video Enhancement SDK, the all-new STOIK Video Enhancer s builds on the company's many years of expertise in still image and video processing. The company's motion-adaptive image processing technologies bring studio quality to consumer videos, performing high-definition video upscaling and producing well-balanced, noise-free, shake-free and blur-free footage out of ordinary recordings.
Video noise reduction can distinguish noise from useful details by analyzing neighboring frames in the video stream. It represents further development of the popular STOIK Photo Noise AutoFix filter. The video noise reduction algorithm produces crisp, clean and clear footage without sacrificing image details.
STOIK Video Enhancer provides one-click access to fully automatic exposure correction and color balancing, and offers convenient shadow/highlight control that's able to pull the details that are missing in clipped shadows and blown highlights from neighboring frames.
Shake reduction produces image-stabilized video stream out of shaky videos with no black borders in a single pass.
Sharpening and Smart de-blur functions allow making blurred video appear more clear, restoring blurred details using information from neighboring frames.
STOIK Smart resizing and Super Resolution SD to HD upscaling algorithms create crisp and detailed full HD footage from any source. STOIK Video Enhancer borrows additional details from preceding and subsequent frames, producing highly detailed, studio-like HD videos. The results of Super Resolution HD upscaling are comparable to those produced by some of the best stand-alone upconversion units.
User Experience
STOIK Video Enhancer offers a convenient three-step workflow, offering its users an extremely simple and straightforward interface.
Import/Export Capabilities
STOIK Video Enhancer supports videos in all sizes and resolutions and a variety of formats. It is perfect for making Web-sized video clips as well as preparing full HD media.
Pricing and Availability
STOIK Video Enhancer is available immediately for $49. A free evaluation version is available for download from stoic.com
More information and free trial version download available on STOIK Video Enhancer product page. Full version of STOIK Video Enhancer available upon request.
About STOIK Imaging
Established in 1994 by a group of talented physicists and mathematicians, STOIK Imaging develops innovative Windows and Mac software for still image and video processing. Its founders have extensive background in developing image processing and data acquisition projects for a Soviet space program. Today, the company produces a wide range of image processing solutions for consumer and professional markets, and provides independent consulting and development services. The company licensed its technologies to a number of companies from the Fortune 500 list.
###