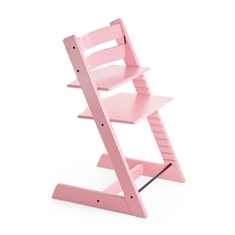 The product has passed international safety standards that rigorously test children's furniture for stability, durability and harmful substances
(PRWEB) December 30, 2009
For those of you that haven't heard of a Tripp Trapp chair, it's a high chair that is designed in a way to allow a child to sit directly at the dinner table, increasing the child's social development. The Tripp Trapp chair has been around for 36 years, and has built up a dedicated following in the nursery industry, making it the chair of choice for many mothers.
The Tripp Trapp chair is one of the best investments that you can buy for your child, as it's the only chair on the market that actually grows with your child. The chairs unique design allows the chair to be re-configured as your child grows, even up to adulthood! This feature makes the Tripp Trapp chair one of the best 'value for money' children's products on the market.
The Tripp Trapp has been incredibly popular in the UK market, one of the reasons being it's style that fits in with almost every home. Made from Beechwood, and available in over 12 colours, the Tripp Trapp has been featured in many inspirational home magazines alongside the usual parenting magazines.
Stokke has a long track record of develping nursery products that exceed international safety standards, and the Tripp Trapp is fully standards compliant. The product has passed international safety standards that rigorously test children's furniture for stability, durability and harmful substances (amongst many others) so you can be sure that the Tripp Trapp high chair is built to last.
Tripptrapponline.co.uk has been set-up due to consumer demand for this remarkable product, and aims to be the ultimate resource site for all things "Tripp Trapp". The site also recommends the best places to buy on-line, catering for the price orientated consumer. The where to buy section offers an easy, at a glance view of who has stock, and who is offering the most competitive price on the internet.
# # #