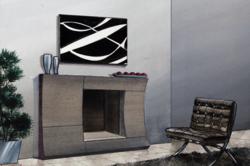 These fireplaces will be a departure for many people,but we think that's what people want. The opulence we used to see pre-recession is gone.
San Antonio, Texas (PRWEB) November 08, 2012
As the housing market continues to dig out of the recession, the "new normal" has prompted companies to redefine the way they do business. Many have fled the housing sector, but those that remain have used innovation and imagination to produce spectacular new results. The new approach to fireplace design used by Materials Marketing is a perfect example.
Materials Marketing is a fully-integrated manufacturer of hand-carved architectural and dimensional stone. During the housing boom, the luxury housing market simply couldn't get enough of their custom stonework, and price was no object. "It was not uncommon for us to create fireplaces with family crests hand-carved into the stonework," said Materials Marketing Vice President John Valentine.
While Materials Marketing continued to receive those types of request, Valentine sensed a shift toward what he described as post-recession minimalism. "It happens after every recession," he noted. "Some view it as a sales dip. We viewed it as an opportunity."
Client customization used to be about keeping up with the Joneses. Now the demand had shifted to a blend of style and substance. "Luxury homeowners want to retain that sense of uniqueness and aesthetic appeal, but are slightly more pragmatic," Valentine said.
Materials Marketing realized that innovation was the key, and it turned to its staff to provide the solutions the new normal demanded. The company launched a competition akin to a Project Runway format, in which members of the staff could create their own fireplace designs, experimenting with different types of stones and unique contemporary stone fireplace mantels.
"I received 250 entries," he said. "I nearly had a heart attack."
Employing a judging committee of nine professional designers and architects, the company chose 12 top designs to integrate into their product line. With styles ranging from modernistic to art deco to arts and crafts, each look can transform a room.
"These fireplaces will be a departure for many people," Valentine said. "But we think that's what people want. The opulence we used to see pre-recession is gone. People want value and vision in their home decor. They still want to be unique, but stylish in their own right."
Customization still allows clients to adapt the design to their homes colors and overall decor. "The palette is wide-open," said Valentine. "And we're more than happy to carve a family crest if the spirit moves a customer."
For more information, visit the Re-Imagined American Fireplace Collection or download our catalog
_____________________________________________________________________________
Materials Marketing started with a flagship store in San Antonio, Texas in 1962 and has expanded to 11 showrooms across the country. They are the only architectural stone and natural stone flooring supplier in the U.S. that owns and operates their manufacturing facilities.