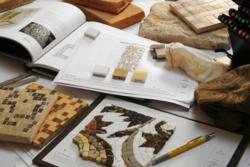 We have to get back to the foundation of our business—designing. The outcome will hopefully be organic, inspirational and complimentary of today's design trends.
Atlanta, GA (PRWEB) January 31, 2012
Gnosis' design team, Eduardo Esparza, Sandra Ghaoui and Christian Brown will step up to the challenge to create completely new stone mosaic designs for the company. The 30-day event will take place during the entire month of April this year. At its commencement and after the public vote is tallied, the winning designs will be crafted into stone mosaics in May and available for sale on June 1st, 2012.
One of the catalysts for this challenge to create a new collection is the company wants to respond to the new trends in design; and creatively as well as strategically, it must be a part of the movement. As dedicated artists to the ancient craft, the designers want to adopt a modern day perspective while maintaining their tradition of technique and application.
The new collection is intended to preserve the expert characteristics and superior craftsmanship of the company's stone mosaics product line but with a forward thinking approach to the new era of aesthetics for collectors, interior designers and all clients.
"It's time for a change," said Sandra Ghaoui, president of Gnosis Mosaics. "I feel that we have to get back to the foundation of our business—designing. The outcome will hopefully be organic, inspirational and complimentary of today's design trends. We feel that we are returning to our roots, but in a slightly different way that is more purpose driven, we want to take into consideration the surfaces and materials that are used today and create designs according to these elements.
The virtual inclusion of the public is also very important to the company. All design sessions of the participating artists will be available online through a live-feed on the company's website blog as well as on Facebook. Viewers can also watch digital recordings of their designs in progress on YouTube. Instructions on voting procedures will be posted online. "We are excited sharing with the public our creative process, this further helps us to achieve our goal of remaining current; the purpose self fulfills."
Founded in 2004, Gnosis Mosaics recently moved its creative studio to the Goat Farm Arts Center in Atlanta, GA. "We have been inspired with such a creative environment and are now excited to go back to the roots of our company. This new location sparks our creativity and passion for what we do best—create," says Ms. Ghaoui.
_____________________________________________________________________
About Gnosis – Custom Mosaics –
Founded in 2004, Atlanta-based Gnosis, http://www.gnosis-mosaics.com, crafts custom-designed, handmade mosaics by merging ancient crafting traditions with contemporary design. Whether clients start specifying a mosaic drawing from Gnosis' extensive catalog of designs or commission an entirely new creation, Gnosis custom makes its mosaics to each customer's choice of color, scale and geometry. In addition to the firm's work for high-profile residences and luxury commercial developments, Gnosis has partnered with established architectural and interior design firms, including Design Galleria Kitchen & Bath Studio, Harrison Design Associates, Suzanne Kasler Interiors and Grupo Diarq.
Connect with us on Facebook and Twitter
###