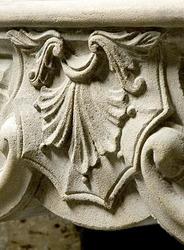 We are now able to offer not only Scagliola Stone™ Fireplace Mantels, but also amazing Hand-Carved Limestone masterpieces and exquisite Hand-Carved Limestone Reproductions. We had to re-design our Catalog accordingly
Atlanta, GA (PRWEB) August 28, 2007
Francois & Co. - The parent company of Stone Age Designs introduces a new catalogue and New Product Portfolio featuring Hand-Carved Limestone, and Hand-Crafted Scagliola Stone™ Architectural Accents, Fireplace Mantels and Kitchen Hoods. François & Co., the premier source for Hand-Carved Limestone, Hand-Crafted Scagliola Stone™ Fireplace Mantels, and Kitchen Hoods, is pleased to introduce the new works of Thierry Francois featured in the New Product Portfolio.
The new 76-page full color catalog features an easy-to-read layout, and introduces several fine new products to the François & Co. Showcase. These include the new Heritage collection of Hand-Carved Limestone Fireplace Mantels, the new "Moderne" collection of Contemporary Fireplace Designs and the "Metal" Collection featuring unique Scagliola Stone™ Fireplace Mantels cast in Copper and Pewter.
"We have expanded our product portfolio beyond our traditional Scagliola Stone™ products," explains Thierry François, President and chief designer of François & Co. "We are now able to offer not only Scagliola Stone™ Fireplace Mantels, but also amazing Hand-Carved Limestone masterpieces and exquisite Hand-Carved Limestone Reproductions. We had to re-design our Catalog accordingly," concludes François.
The New Product Portfolio of Francois & Co. is divided into three separate sections: Fireplace Mantels, Kitchen Hoods, and Architectural Accents.
Fireplace Mantels: The fireplace opening page showcases the new Heritage Collection of Hand-Carved Limestone Fireplace Mantels. These exquisite pieces are the mirror images of French antique mantels discovered in France dating back to the Renaissance. They are Hand-Carved by French artisans commissioned by François and Co. The Heritage Collection includes Fireplace Mantels that emulate the appearance and preserve the legacy of original masterpieces, thus providing a true sense of history and timeless beauty to any modern home. The Fireplace Mantel Section also features the new "Inspiration" collection of historically inspired Fireplace Mantels Hand-Crafted in Scagliola Stone™. These Antique-looking Fireplace Mantels provide an elegant and authentic alternative to lesser cast stone and concrete products. The new "Moderne" Collection showcases six contemporary Scagliola Stone™ Fireplace Mantels, inspired by several 20th century artistic movements. The new "Metal" Collection completes the Fireplace Designs and Fireplace Mantels Section. This unique collection features one-of-a-kind Scagliola Stone™ Fireplace Mantels cast in Copper or Pewter, highly prized by connoisseurs.
Kitchen Hoods: The Scagliola Stone™ kitchen Section includes magnificent Kitchen Hoods and complimentary shelves and corbels. The Kitchen Hood designs in Hand-Crafted Scagliola stone™ range from Classical French to Italian, from Contemporary to Provencal, and several designs are also available in Copper and Pewter finishes.
Architectural Accents: The architectural accents Section features unique Scagliola Stone™ elements for residential and commercial buildings including Columns, Pedestals, Moldings, Arches and Balusters.
The new François & Co. New Product Portfolio contains detailed technical specifications and high-resolution application pictures of all the products featured. It is tailored specifically to the requirements of the design, architectural and builder's communities. To find out how and where to order the new François & Co. product catalog, please visit http://www.francoisandco.com.
About Francois & Co.:
Founded in 1998, Francois & Co. is a premiere source for Hand-Carved Limestone mantelpieces and fine handcrafted Scagliola Stone™ kitchen hoods, fireplace mantels and architectural accents. In addition to its 9,000-square-foot showroom and headquarters in Atlanta, François and Co. has showrooms in Winter Park (Florida), Charlotte (North Carolina) and West Hollywood (California). You may contact François & Co. at 1-866-385-9486 or visit them at http://www.francoisandco.com/
Contact:
Bruno Francois
Stone Age Designs
1990 Defoors Avenue
Atlanta, Georgia 30318
Toll Free 1.866.385.9486
404.350.3333 - Extension 4
F. 404.355.4570
Kathleen Austin or Dick Iannella
Arizona High Tech Talent Partnership
480-998-0246
###