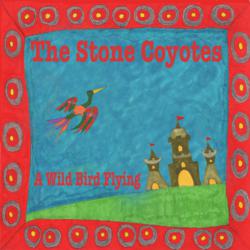 "A rare wild beast in a domesticated music industry." - Rolling Stone
Boston, MA (PRWEB) October 16, 2012
Rolling Stone once called The Stone Coyotes "a rare wild beast in a domesticated music industry." Fittingly, their twelfth album is called "A Wild Bird Flying." Front woman Barbara Keith began her career at the Café Wha? in Greenwich Village, following in the footsteps of Bob Dylan, Jimi Hendrix, Joni Mitchell and many others who got their start there. She was soon recording for MGM/Verve, A&M, and Warner Brothers. Barbara's songs have been covered by such diverse artists as Tanya Tucker, Barbra Streisand, Melanie, Amanda Shires, and Patty Loveless, who covered "The Bramble and the Rose" on her Mountain Soul II album. Barbara's husband, Doug Tibbles, had a whole other life before drumming –a TV writer scripting such shows as The Munsters, Bewitched, Andy Griffith, My Three Sons, Family Affair, and more. Unhappy with show business in general, Barbara gave back her major label advance, Doug quit his one-day-old job as story editor for Happy Days, and they went underground. Doug took up drums, and son, John Tibbles took up bass and guitar at age eleven. Reclusive by choice, the band moved from L.A. to Western Massachusetts to write and woodshed. They began playing the occasional show while recording in their cellar when bestselling author Elmore Leonard (Get Shorty, Jackie Brown, Out of Sight) walked into the Troubadour in L.A. one night looking for inspiration for his sequel to Get Shorty. The Stone Coyotes became the model for Chili Palmer's next adventure, the novel Be Cool. Leonard said, "It was music I could understand…straight ahead rock and roll with a twang. And there are good stories going on in the songs." He included their lyrics in the book and dedicated it to them. Elmore and the band made a string of appearances together around the country with a Words and Music Tour – from Boston's Mama Kin to L.A.'s Viper Room. Recently, the band's music has been heard in 8 episodes of Dog the Bounty Hunter.
"A Wild Bird Flying" is packed with an energy that rockers can't get enough of. Both familiar and refreshing, The Stone Coyotes have all the classic tools of a great rock and roll band and they know how to use them. With respect to their music, the band states, "We consider ourselves servants of the songs – so they dictate how we record and play them," and "A Wild Bird Flying" delivers. Tracks such as "Red Letter Day" really bring out Keith's sincere lyrical style and conversational tone. Wide musical influences blended through their unique Coyote filter will take you on a ride from the Americanized Led Zeppelin sound of the title track to the stylized blues of "Goin' Down For the Third Time." "A Wild Bird Flying" really hits the spot and flows from beginning to end.
"A Wild Bird Flying" was recorded and mixed at the band's own Red Cat Studio. It was mastered by Mark Alan Miller (Dinosaur Jr., Chappaquiddick Skyline) at Slaughterhouse Recording Studio.
For more information or to schedule an interview, please contact Melissa Zeigler at Powderfinger Promotions: melissa(at)powderfingerpromo(dot)com