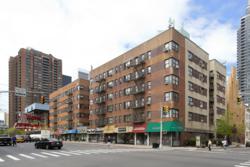 New York, NY (PRWEB) September 16, 2011
Stonehenge Partners ("Stonehenge") is pleased to announce the acquisition of 1143 Second Avenue, New York, New York (the "Property").
The Property is a 6-story, 85,000 square foot mixed-use apartment building spanning the entire 200 foot block front from 60th to 61st Street. The Property is comprised of 93 apartments and approximately 10,000 square feet of ground floor commercial space. The 93 residential units in the building are comprised of 52 studios and 41 one-bedrooms with the average apartment size around 700 square feet.
The Property is being acquired as part of Stonehenge Fund III, a $500 million equity fund that was created in 2007 to invest in Manhattan multifamily assets. This is the 5th acquisition by Stonehenge Fund III. Other assets acquired as part of Stonehenge Fund III include 360 East 65th Street, 141 East 33rd Street, 8 Gramercy Park and 555 Sixth Avenue.
Founded in the early 1990's by Ofer Yardeni and Joel Seiden, Stonehenge is a fully integrated New York City-based real estate company that owns and manages a 19 property portfolio comprised of approximately 2,700 residential units and 700,000 square feet of commercial, retail and garage space. Stonehenge's primary investments are in Manhattan multifamily real estate.
For more information about Stonehenge please visit the Stonehenge Website.
The Jones Lang LaSalle team of Yoron Cohen, Richard Baxter, Jon Caplan, Scott Latham, Glenn Tolchin, and Jason Gold were the brokers in the transaction.
###