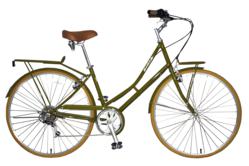 New York, NY (PRWEB) June 09, 2011
Stonehenge Partners ("Stonehenge") is pleased to announce that its new retail tenant at 360 East 65th Street (also known as Stonehenge 65), Biria USA ("Biria"), has opened for business.
Biria is a New Jersey-based bicycle brand/company which was founded in 2002. Biria is opening its first Manhattan retail store at Stonehenge 65 under the name Ciel, which will specialize in the sale of commuter and urban/city bicycles.
Biria offers a wide range of commuter and European style bicycles such as the Easy Boarding and the Citibike. The Easy Boarding bicycles have become very popular in the United States over the last decade with its unique German-designed step through feature. Biria also introduced its Citibikes in 2010 which have become one of New York's best selling commuter bicycles.
Stonehenge is very excited about signing a lease with Biria and will collaborate to promote a number of bicycle-friendly initiatives within the Stonehenge portfolio. Stonehenge will also work with Biria and use Stonehenge's social media and interactive footprint to extend discounts to residents for bike purchases, accessories and tune-ups through the Stonehenge Facebook Page.
Stonehenge 65 is a 158 unit luxury Manhattan rental building located on the Upper East Side. The building also has a large block of retail space along First Avenue between 64th and 65th Street. Stonehenge 65 was purchased in 2008.
Founded in the early 1990's by Ofer Yardeni and Joel Seiden, Stonehenge is a fully integrated New York City-based real estate company. Stonehenge, together with its partners, currently owns and manages an 18 property portfolio comprised of approximately 2,400 residential units and 700,000 square feet of commercial, retail and garage space.
Both Stonehenge and Biria were represented by Ross Berkowitz of Robert K. Futterman in the transaction.
###