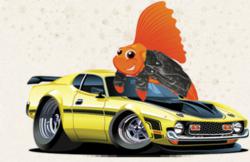 New York, NY (PRWEB) August 24, 2012
RoadFish.com men's lifestyle and finance magazine today issued their comments on some difficult questions for American consumers to ask themselves which are designed to try to curb overspending. Fox Business released their top five questions which are intended rein in reckless spending, and RoadFish.com's take on this strategy may help consumers limit excessive spending when shopping.
Claes Bell of Fox Business recently reported that according to the Federal Reserve, U.S. consumers owe a collective $870 in debt and a lot of the money owed comes from credit card debt. Especially at a time where the economy is on the way to recovery but not quite there yet, Americans are currently deeper in credit card debt than just one year ago—although delinquent accounts are down, a good sign for consumers' credit reports and their personal finances. And Bell reports that although millions of personal finance books are sold each year to help curb overspending, many times it comes down to the consumer actually being in the aisle of a store and not being able to say no.
RoadFish.com empathizes with overspending, and admits to having been sucked in by impulse purchases in the past. RoadFish.com's Senior staff writer is quoted as saying, "I definitely would not consider myself a shopaholic, but I have been known to go into the store for one thing, and then drop fifty bucks on God-knows-what. They're impulse purchases, things that caught my eye and made me think, 'I didn't even realize I needed this, but in fact I do,' when in fact, I really do not. Isn't that the definition of impulse purchase? And if I do that occasionally, I can't imagine how bad somebody who is a true shopaholic might be. I think overspending and immediate gratification go hand in hand, and they are two things that we as consumers could definitely afford to work on."
In the above-mentioned article, the founder of personal finance online community Wealth Gathering LLC, Michael Goldman, is quoted as saying, "It's often those little impulse buys that add up and tend to go on credit cards. Many of my clients are surprised when they discover how much they spend on eating out on the run, or (racking up) those $200 bills at Target when they just went in to buy one thing." Bell reports that one of the biggest questions consumers should ask themselves when shopping is whether or not they can afford the purchase. Freedman Financial Planning founder, Cynthia Freedman, points out that just because there is money in a bank account doesn't mean it is free for spending. She is quoted saying, "You might have a nice bank balance, but if all of your money is obligated to other bills then that does not mean that you can afford to make that purchase. You really, really need to live on a budget and know how much you can afford to spend on a given category in a given month."
RoRoadFish.com strongly urges consumers to keep a monthly budget to track income and spending habits. RoadFish.com's Senior staff writer is quoted as saying, "A monthly budget is probably the single best tool I can think of to manage personal finances. Track your spending habits for one month, and I guarantee that you will see some spending that will shock you. Mine was the stereotypical Starbucks habit. I was floored when I saw that I had spent over $60 on coffee in a month. It also brought other spending habits to light and caused me to make some big changes to my monthly expenses, which has ended up saving me a ton of money. Bottom line is you won't know how much you've got to play with or save if you're not keeping track of where it's all going, and how much is left. I cannot recommend keeping a budget strongly enough."
Some other questions included in the Fox Business article include asking oneself, what am I really getting out of this purchase, is this the best deal, and what would I be giving up by spending this money. For instance, if a sum of money has been set aside for something special, such as a down payment on a new car or a luxury vacation, Bell states that consumers are less likely to dip into that pot to spend frivolously.
About RoadFish.com
RoadFish.com is a heavily read online men's magazine that encompasses topics of lifestyle, finance, travel and dating advice for its readers. RoadFish.com followers tend to be men in their 30's and 40's who have already achieved moderate success in life and have their sights set on a bigger personal or professional goal. RoadFish.com men's lifestyle and finance magazine runs articles about men's fashion, luxury items, hot chicks, travel and tourism, and also dishes out financial advice such as college tuition tips for parents. RoadFish.com is an online magazine that is owned and operated by Purpose Inc.