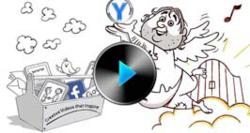 60% of business people said they would rather watch a video explanation than read the text on a webpage
Saint George, UT (PRWEB) October 04, 2012
Stop Frame Animation Video | 54 Seconds to Captivate Audience
As explained by Ydraw in their informational page, online business videos generally only have a mere 54 seconds to captivate their audiences and keep their attention. The general attention span of an audience is extremely short, that is why it is critical to captivate them within the first few seconds of a video.
Businesses should be able to leave a lasting impression on their viewers with their video. With stop frame animation videos, this is extremely achievable. The intricate drawings and video scribing techniques used in these videos are so different from any other video on the internet today that each video is sure to grab the attention of any audience, whether they be from a younger or older generation
The biggest element of a video that needs to be incorporated is the element of curiosty, making viewers curious and interested in what is going to come next. Adding humor and comic relief is a good way to let the audience loosen up and get into a video as well.
Videos of many mediums can be extremely engaging and effective in getting a company, product, or service message across to a wide audience across the world. As quoted on Ydraw's site, "60% of business people said they would rather watch a video explanation than read the text on a webpage" (Forbes.com).
So stop reading this article, surf over to YouTube or Vimeo, and look up the latest video scribing, whiteboard animation, or stop frame animation video, and see first hand if these kinds of videos captivate attention for more than 54 seconds. If they do, visit Ydraw or contact them and order a customized video today!