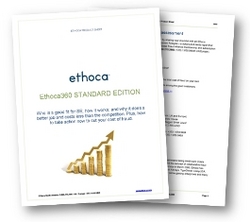 Ethoca quotes actual fraud savings for a prospective customer once it has analyzed the company's data. Ethoca is the only company to guarantee specific fraud savings.
New York, NY (PRWEB) March 9, 2010
Ethoca Limited provider of Ethoca360 fraud detection services, has released Ethoca360 SE, a packaged "off-the-shelf" service based on a data-driven anti-fraud model.
"For several years, Ethoca has custom designed fraud detection systems for companies in the U.S and U.K.," said Ethoca co-founder and President Keegan Johnson. "With the introduction of Ethoca360 SE, merchants of every size who sell online can take advantage of our advanced statistical and behavioral analytics capabilities. Ethoca360 SE is a best-in-class solution for small to mid-size merchants including capabilities usually only afforded to large merchants, such as high-performance statistically-based scoring, risk threshold control and manual review support."
All Ethoca360 services leverage Global Fraud Alliance member data -- a repository of over 500 million consortium-pooled real-time e-commerce transactions – to make better fraud decisions. Enabling its members to gain from each other's experiences and fight fraud as one, the GFA repository contains hundreds of times more data than most Alliance members have on their own, dramatically improving their fraud detection accuracy.
Ethoca's latest service innovation, Ethoca360 SE, is highly effective solution. It detects between 50 and 80 percent of fraudulent transactions in real-time, with manual review rates approximately 50% below industry averages. The source of this extraordinary performance is an underlying statistical model derived through multivariate regression analysis of historical consortium data to determine the "best fit". This means that on average, GFA members achieve the highest possible fraud prediction accuracy, and the lowest number of wrongly rejected orders.
Pricing starts at $300/month, and is based on offering a high return on investment. Ethoca quotes actual fraud savings for a prospective customer once it has analyzed the company's data. Ethoca is the only company to guarantee specific card-not-present fraud savings.
Ethoca360 SE is part of the Ethoca360 line of services which also includes Ethoca360 Signals and OEM solutions through partners such as 41st Parameter.
"Our solutions are effective, because they rely on the massive repository of pooled data from the Global Fraud Alliance to produce better statistical results. The best part is that we have spent the time analyzing the data so you don't have to be a fraud or statistics expert. You just connect and start using the system" said Johnson.
Ethoca360 SE evaluates all types of customer and card-not-present transactions: online orders, mail orders, telephone orders and fax orders. It generates a fraud risk score that can be used to automatically accept or reject the order, or refer it for manual review based on each customer's own policies and risk tolerance thresholds. When a score is ambiguous, Ethoca360 SE provides collaborative signals that break down the risk by data elements, sub-elements, and composite rules. For each factor the user gets a color-coded risk Warning Signal: red, yellow or green. The collaborative signals are derived from the pooled data from the Global Fraud Alliance.
A product information sheet is available at http://www.ethoca.com/fraud-detection-services/SE/
About Ethoca
With offices in Dublin, Toronto, and New York, Ethoca provides anti-fraud services to businesses taking credit card orders online, by fax, through catalogs and by telephone. Ethoca pioneered and mastered the concept of collaborative fraud management to fight online credit card fraud. Learn more at http://www.ethoca.com.
###