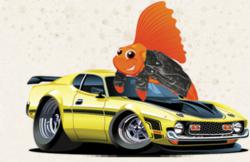 Doing this one thing for yourself may provide a huge improvement to your life...
Los Angeles, California (PRWEB) February 21, 2012
RoadFish.com men's finance and lifestyle magazine discovered a new nail biting cure that was created by, Mindy Wright, a self-proclaimed geek. After years of dealing with a stubborn nail biting addiction, Mindy Wright, decided to create a solution that could help others that want to know how to stop nail biting.
Mindy spent years trying traditional techniques to end nail biting, but with no success. She set out to create a new technique that could help others. On her journey to develop the ultimate technique, she read over 11 books on topics ranging from conditioning to advanced cognitive therapy strategies. She tested 42 different techniques and selected the three that were the easiest to apply and worked long term. Her goal was to help others who were struggling to end their nasty nail biting habit quickly and pain-free.
A report published by BMC Research stated that in a 2011 study approximately 25-30% of subjects tested suffered from nail biting. Nail biting is known to transfer germs from the hands to the mouth and from the mouth to the hands. This transfer can cause stomach problems from ingesting bacteria found under the nails or damaged nail cuticles to become red and possibly infected. Many of the top ten New Year's resolutions for 2012 include such resolutions as improving health, more exercise and specifically curbing nail biting. Kicking the habit of nail biting may be beneficial to one's health and satisfying a resolution this year.
With entire websites and forums dedicated to helping others with nail biting, Mindy promises that her technique works the fastest and is the most fun. The course contains a total of four videos that breakdown the science and research supporting this technique.
RoadFish's Editor was quoted as saying, "These videos are quite easy to follow and anyone can use them to eliminate a nail biting habit. Doing this one thing for yourself may provide a huge improvement to your life, the way you deal with the stress that causes you to bite your nails, and overall confidence in your appearance."
The website also debunks the common mistakes most people make when attempting to stop nail biting. Mindy says the biggest mistake nail biters make is trying to use will power to stop biting. Other techniques like snapping yourself with rubber bands are outdated and don't work long term.
In addition to her new technique, Mindy has a resources section on her website where she answers common questions that people have when it comes to wanting to know how to stop nail biting.
About RoadFish.com
RoadFish.com is an online men's lifestyle and finance magazine targeted toward men in their 30's and 40's that have already attained a moderate level of success in life, and are striving toward more. It goes over current events of interest to this group, such things as exciting adventures, sports, consumer interests, as well as ways to make more and save more money. It is a publication owned by Purpose Inc.
###