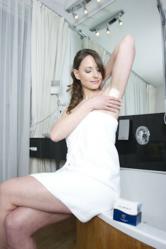 Experience a new freedom with PURAX Pure Pads
Los Angeles, CA (PRWEB) October 16, 2012
Emily, a native of Los Angeles, had been struggling to find a job for over a year and a half. Emily had already had several interviews, but she was so embarrassed and anxious by her excessive perspiration that she lost precious opportunities.
"The sweat was so bad that I couldn't even focus on the interviewer's questions" said Emily. "I had tried literally every deodorant, but they all caused sweat stains which damaged my dress shirts. A close friend of mine recommended PURAX's underarm pads, and I've been dry, confident and sweat-stain free ever since. Best of all, I was finally able to nail an important interview and get working again."
For those who suffer with excessive perspiration, every day is a struggle because it can feel as though everyone is staring and passing judgment.
There are many unfair and negative stereotypes attached with sweating. Sweat stains, for example, are often seen as a sign that someone is unhygienic or unfit. These negative stereotypes reinforce the anxiety and discomfort of those who sweat excessively which in turn causes more anxiety, discomfort, and sweat -- it's essentially a vicious cycle.
PURAX has developed a solution to break this cycle: The PURAX Pure Pads.
With over one million already sold, the PURAX Pure Pads are the world's first and only, patented, self-adhesive underarm pads. Unlike other underarm pads, which are attached directly to the clothing, the PURAX Pure Pads are placed directly on the skin so that the user has maximum mobility and comfort.
Each "PURAX Pure Pad" is designed with four layers: first, a soft and airy membrane that rests against the skin; second, a highly absorbent layer of fleece that captures and locks in sweat; third, a tough layer of nylon to protect the clothing; and lastly, an FDA-approved self-adhesive that holds tight and can be painlessly removed without any residue.
Features:
-Patented butterfly design and self-adhesive allows for complete freedom of movement.
-FDA-approved adhesive makes it easily applied and removed!

Safe, discrete, and secure protection from light-to-moderate sweating.
But for those eight million people who suffer from severely excessive sweating -- a condition known as hyperhidrosis -- the current selection of commercial products just doesn't cut it. Desperate for a solution to their sweat problem, these afflicted individuals sometimes turn to expensive and invasive surgical procedures.
Many do not realize that there is an affordable, noninvasive solution to excessive sweating -- simply combine the PURAX Pure Pads with the PURAX Roll On for the ultimate protection.
With its powerful, odorless and FDA-approved formula, the PURAX Roll On stops sweat dead in its tracks for up to seven days! While the PURAX Roll On is designed for everyone, it is especially effective for those who suffer from moderate-to-excessive perspiration as well as hyperhidrosis.
The application of PURAX Roll On is simple: Before bed, simply swipe your underarms two to three times with the Roll On and experience up to a week free from underarm sweat.
Features:
-Maximum strength, FDA-approved formula offers up to 7 days of sweat protection!
-Not weakened by showering.
-One bottle can last up to 12 months with regular usage.
To learn more about these products, hyperhidrosis, or the science behind sweating, check out PURAX today! Getting PURAX products is easier then ever before, just click the PURAX USA store in the buy now tab on the website!
Website: http://www.Purax.us