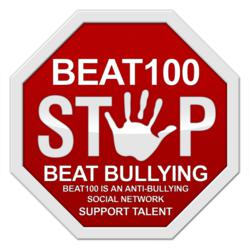 One of the most common forms of bullying happens online, and with 58% of children and teenagers reporting to have experienced it, BEAT100 hugely regards this as intolerable behaviour.
(PRWEB) November 13, 2012
After working with thousands of musicians, BEAT100 have come to realise that bullying due to being talented is more common than we thought. Whether people are a musician, model, or actor, the likelihood of being bullied is high, which is purely down to the level of jealousy from others. After researching, BEAT100 discovered that the number of current celebrities who were bullied during school is of an extraordinarily high amount, including some of the most successful people in the world such as Taylor Swift, Lady Gaga and Jessie J. However, their struggle motivated them to become bigger, better and stronger, which lead them to where they are today.
Due to this, BEAT100 are beginning an anti-bullying cam paign aimed at talented people, like the musicians on the BEAT100 social network. One of the most common forms of bullying happens online, and with 58% of children and teenagers reporting to have experienced it, BEAT100 hugely regards this as intolerable behaviour. Online bullying is common on Facebook, but appears to be at a significantly higher level through the use of Twitter. Studies show that there are approximately 15,000 bullying-related tweets being posted every single day, in which groups of girls and boys form 'packs' and attack other individuals. BEAT100 have discovered a large percentage of these individuals being singled out are down to the jealousy that others feel towards them due to them being talented or different. Harry Styles, from One Direction, has recently experienced cyber bullying on Twitter since the successful pop group's rise, with people calling him names such as 'd***head' and 't**t'. Styles isn't the only member of the boy band who has been receiving hate mail over Twitter, with Zayn Malik being referred to as a "terrorist", leading to Zayn disabling his Twitter account after feeling fed up of reading the hateful and uncalled for messages.
Some of BEAT100 users have already begun fighting back against bullying through the powerful use of music. Skyla Rayne (11) wrote the original song "Butterfly" as part of an anti-bullying campaign, which has been played across local schools. Rayne's powerful lyrics state, "You don't know me in reality, if you did my colours would show, let them glow" and "something's changing, it won't be long until I'm on my way soaring like a butterfly". Her positive message was written to reassure bullying victims of how one day they will grow to be stronger and better than the nasty people they are surrounded by. Skyla's song will soon be featured in an anti-bullying film, "You Think You Know Me", in which she will play the lead role of 'Raquel'.
Skyla's technique of putting her feelings and emotions into lyrics has also been used by famous artists, such as Taylor Swift in her famous country song "Mean". The lyrics read "someday I'll be living in a big old city, and all you're ever gonna be is mean", allowing listeners to feel positive about their current situation. This topic is also used in songs such as Jessie J's, 'Who's Laughing Now' and Demi Lovato's, "Skyscraper". Well-know "Friday" singer, Rebecca Black, rose to stardom over night when her single went viral on YouTube. Although Black's single has over 42 million views on YouTube, the singer received severe bullying which resulted in the 15-year-old teen being home schooled. Through all the hate, Rebecca Black hasn't given up and soon released her second single, which states powerful lyrics, such as "weren't you the one who said I would be nothing. But I'm about to prove you wrong".
BEAT100 encourages musicians to write about topics like the struggles of bullying as it can be an effective way of feeling more positive about a situation, and can help other musicians and talented people understand that they are being picked on due to jealousy. Remember, it's a good thing to be different and if you or anyone you know is being bullied then be sure to report it to a parent or adult who can help take the steps a person may need in order to end the struggle. For more information, go to http://www.stopbullying.gov on how to prevent and report bullying.
BE SEEN – BE HEARD - ON BEAT100