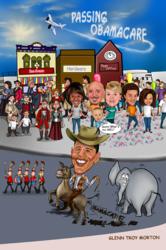 "Obamacare is the Biggest Civil Rights Issue of our time...and I am going to STOP IT"
Washington DC (PRWEB) November 11, 2011
During a speech at the Enough is Enough Rally, sponsored by Coffee Party USA, a gentleman named Glenn Morton spoke on the dangers inherent in the Patient Protection and Affordable Care Act, or Obamacare. Mr. Morton is a former Army Sergeant of the First Infantry Division, a combat veteran of Operation Desert Storm, and an 18 year veteran of the healthcare industry. During his speech, the reactions from the crowd ranged from outward displays of support to fierce opposition. He said he had, with over a year of personal effort and research, developed a better solution to high premiums and the uninsured than Obamacare.
Mr. Morton speech was physically interrupted by organizers of the rally, and the live internet feed provided by Free Speech TV was cut, but not before he called Obamacare the biggest civil rights issue of our time. He also issued an ultimatum to President Obama to stop defending Obamacare in the Supreme Court within 2 weeks, or else he would stop it for the President. It was the boldest and most confrontational speech ever given by an average American towards a sitting President.
The video of the speech is attached to this press release. To arrange an interview with Mr. Morton, please email troy.morton(at)taylorlevi(dot)com, or call (202) 670-5384.
###