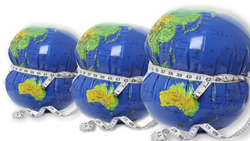 Boston, MA (PRWEB) May 11, 2012
What is causing the obesity epidemic—and how can we stop and reverse this worldwide weight problem? A new website offers authoritative answers to pressing questions about child obesity and adult obesity and sheds light on one of the most challenging public health threats of our time.
The Obesity Prevention Source website, launched by the Department of Nutrition at Harvard School of Public Health (HSPH), aims to give the public, health professionals, public health practitioners, business and community leaders, and policymakers quick and easy access to science-based information about obesity's causes, its dire consequences, and what can and must be done to turn back obesity's global spread.
"You can find lots of websites about weight loss or obesity control, but few provide comprehensive, timely, and science-based information on this global health problem—a problem that is preventable," said Frank Hu, professor of nutrition and epidemiology at HSPH and co-editorial director of the website.
The website is available at http://www.obesitypreventionsource.org.
Created by the same HSPH nutrition experts behind the popular and authoritative website The Nutrition Source (http://www.thenutritionsource.org), The Obesity Prevention Source website accepts no subsidies or commercial support from any industry, so that it can deliver an unbiased perspective on obesity prevention.
The website offers several key features:

Concise summaries of groundbreaking research on obesity's causes—from the earliest influences in the womb to the pervasive influence of an environment that's hostile to healthy eating and has daunting barriers to active living.
Roadmaps to promising strategies for obesity prevention in key settings—families, early child care, schools, worksites, health care—and strategies for community- and national-level changes to food and physical activity environments. It's never too early to start preventing obesity, so child obesity prevention strategies for families, early child care providers, schools, and healthcare providers receive special focus. Each section also links to key resources for translating these strategies into policies and practices.
A "Healthy Weight Checklist" that outlines simple diet and lifestyle steps for keeping weight in check—a helpful resource for individuals and those who work to help others stay healthy, including parents, teachers, and health care providers.
Policy and environmental changes are the foundation of obesity prevention. Scientific evidence shows that these policy and environmental change efforts should focus on facilitating a handful of key behaviors: choosing healthier foods (whole grains, fruits and vegetables, healthy fats and protein sources); limiting unhealthy foods (refined grains, potatoes, red meat, and processed meat) and sugary beverages; increasing physical activity; limiting television and screen time; improving sleep; and reducing stress. The Obesity Prevention Source offers strategies that can help individuals and communities make these healthy choices easier choices.
"To bring about these widespread societal changes, participation is needed from all sectors—for-profit, non-profit, governmental agencies, and civic agencies," said Lilian Cheung, director of health promotion & communication, Department of Nutrition, HSPH and co-editorial director of the website. "Furthermore, each one of us can be an agent of change—at home, in our children's schools, at our work, and in our community. We also need to encourage and support changes at a national level—to collectively fuel this important social movement as a matter of urgency for the health and well-being of all people around the world."
Visit the HSPH website for the news, press releases, and multimedia offerings.
For more information:
Todd Datz
tdatz@hsph.harvard.edu
617.432.8413
photo: iStockphoto
###
Harvard School of Public Health is dedicated to advancing the public's health through learning, discovery and communication. More than 400 faculty members are engaged in teaching and training the 1,000-plus student body in a broad spectrum of disciplines crucial to the health and well-being of individuals and populations around the world. Programs and projects range from the molecular biology of AIDS vaccines to the epidemiology of cancer; from risk analysis to violence prevention; from maternal and children's health to quality of care measurement; from health care management to international health and human rights.