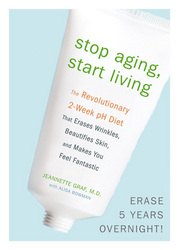 Dr. Graf explains in straightforward, no-nonsense terminology why living a well-balanced life, from eating slowly to embracing joy fully, is the best defense against aging…all while prescribing an easy-to-follow Rx for young-looking skin
New York, NY (PRWEB) October 16, 2007
Dr. Jeannette Graf , a leading dermatologist and former National Institutes of Health fellow, releases a revolutionary new book, "Stop Aging, Start Living", detailing how the pH balance of your body affects how your body functions. As a nationally recognized skin care expert, she has done extensive studies on the direct link between the foods you eat and the lifestyle choices you make and most importantly, their affect on skin health, energy levels and overall well-being.
"Dr. Graf explains in straightforward, no-nonsense terminology why living a well-balanced life, from eating slowly to embracing joy fully, is the best defense against aging…all while prescribing an easy-to-follow Rx for young-looking skin," says Elaine D'Farley, beauty director, Self magazine.
"Stop Aging, Start Living" outlines Dr. Graf's all-new, 2-week diet that aims to balance the ratio of alkalinity and acidity for optimal skin and body health. Her plan includes:

Nutrition: Follow a diet with a 3-to-1 ratio of alkalinizing foods to acid-producing food. The skin-beneficial alkalinizing foods she recommends are dark leafy greens, filtered water, lemons, nuts, seeds, olive oil and specific whole grains. Aging acidic foods that should be used sparingly but not totally excluded include sugar, cola, coffee and animal proteins.
Supplements: Take her recommended super food supplements including a daily alkalinizing "cocktail" of greens powder and fiber mixed with water along with calcium and probiotic supplements to improve digestion and boost energy levels.
Lifestyle: Participate weekly in a feel-good activity such as dancing, pottery or gardening that releases brain chemicals to bring happiness and serenity.
Skin care: Develop a skin care routine that is right for your age, skin and wallet.
Only by regulating the pH balance of your body can you achieve overall skin health and slow down the tell-tale signs of aging such as fine lines, wrinkles, sallowness and loss of radiance. An optimal acid-to-alkaline ratio in your body will maximize vitality and energy levels to keep you going and glowing.
About Dr. Jeannette Graf:
Dr. Jeannette Graf (http://www.askdrgraf.com) is one of the most well-known dermatologists in the country. As a research fellow at the National Institutes of Health, Dr. Graf's work earned her an Outstanding Achievement Award. She continues to research innovative technologies and has coauthored a number of studies published in prestigious journals, such as Cell, Science, The Journal of Cell Biology, The Proceedings of the National Academy of Sciences, and Biochemistry. Considered the foremost expert on skin-care ingredient technologies in the United States, Dr. Graf wrote the chapter on this topic for the recently published textbook "Cosmetic Dermatology" (Springer Verlag). She also consults regularly with a number of leading drug and skin-care companies, including J&J, Ortho-Derm, Medicis, Neutrogena, Roc, Allergan, and Aveeno, for whom she forecasts dermatologic trends, offers new product ideas, conducts pilot studies and clinical trials, and approves new skin-care formulas. Dr. Graf appears regularly on the Home Shopping Network and has appeared on The View, done several satellite and radio media tours, and has been prominently featured in a national TV commercial for Botox. Magazines, including, Allure, Self, Glamour, In Style, Redbook, Ladies' Home Journal, Good Housekeeping, Fitness, Natural Health, Essence, and Vogue also consistently feature her as a leading expert on dermatology and skin care topics.
The book is now available at http://www.randomhouse.com/crown/ , http://www.amazon.com and local booksellers including Barnes & Noble.
For more information:
Karen Oliver
Karen Oliver and Associates
212-397-0645
ko-and-associates @ nyc.rr.com
# # #